Thomson Reuters is one of the most trusted dependable sources of information and solutions in the world, they support professionals in making wise decisions and managing their organisations more effectively. Law, tax, compliance, government and media are intricate industries their customers operate in. These industries face growing complexity as regulation and technology radically change every business sector.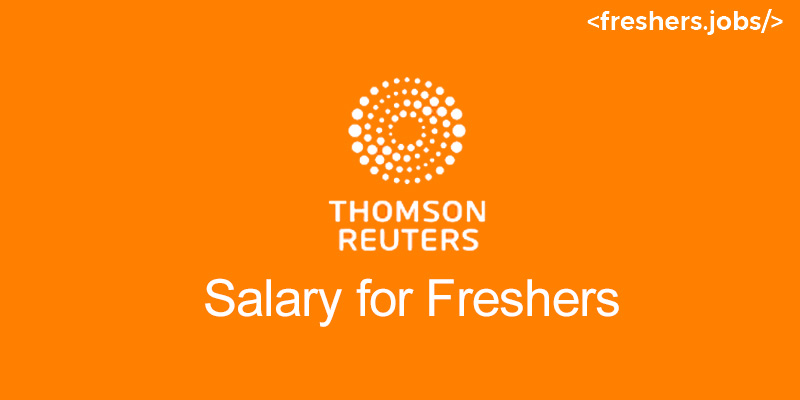 Thomson Reuters seeks and nurtures the most curious and innovative minds who will have a significant impact on the fortunes of global corporations.
Because of its popularity, the company receives a huge number of job applications each year and hires a large number of freshers. The prospects for promotion and the Thomson Reuters freshers salary are the major reasons candidates choose Thomson Reuters.
Why do freshers choose Thomson Reuters?
Thomson Reuters is an excellent place to begin your career. 

This is the best place to begin your career in the

IT

stream with

Thomson Reuters salary for freshers

.

You will have a lot of learning opportunities and your progress will be fairly good  depending on how well you perform, of course. 

The work environment is fantastic. 

Thomson Reuters is a great place to start your career as an Engineer. Because the technological landscape is so large, there are numerous opportunities to learn new processes and technologies. 

Friendly and supportive work environment. 

When new employee joins this company, they will be trained in a range of technologies. 

As Thomson Reuters is located in top cities, one can look out for

freshers jobs in Bangalore

for the latest openings.
Job Opportunities in Thomson Reuters for freshers
Create a career without restrictions. Work on projects that count and have the freedom to follow your passion wherever it takes you. Bring your desire to change the world. They will bring various possibilities. No matter if you are finishing your graduation, looking for a change, or just graduated, you can go from campus to career with the help of the enriched experiences Thomson Reuters is committed to giving the next generation of talent.
The hiring for candidates in Thomson Reuters follows recruitment eligibility criteria for jobs. The company mainly focus on recruiting B.E/B.Tech graduates for fresher jobs posts like Software Engineers and offers them a good salary package and exposure to the latest technologies. The postgraduates like M.Tech, MCA and many more graduated in Computer Science streams can quickly get hired in Thomson Reuters and earn a high Thomson Reuters freshers salary.
Both recent graduates and professionals with experience have numerous opportunities to launch their careers at renowned organization's like Thomson Reuters. Through campus recruitment, campus pool recruitment and off-campus recruitment, Thomson Reuters will hire many people. In contrast to other IT goliaths like Siemens, Google, etc., Thomson Reuters hires a large number of individuals by providing them with a competitive salary.
Basic skills every fresher needs in Thomson Reuters
Thomson Reuters requires specific skills from newcomers. To work for Thomson Reuters, candidates must possess a precise set of skills. Each applicant must exhibit exceptional technical and soft skills.
Candidates should have a solid foundation in general mathematics, science, time, speed and a range of other areas.

All fresher jobs demand these skills and hopefuls can improve their aptitude by working on the subject and earning a good

Thomson Reuters salary structure

.

All of these aptitude skills are considered when calculating the

 salary

.

Joining

PHP

, C,

C++

,

Java

Training and a number of other programming languages, as well as coding, computer frameworks, database management systems and other topics, can help you grow in your professional career. 
Domains in Thomson Reuters
Here are some of the Domains and services in Thomson Reuters. Sales, Technology, Marketing, Journalism, Legal, Finance, Operations, Consulting, Product strategy, Editorial, Manufacturing. There are enough job opportunities for freshers and experienced in all the mentioned Domains and services offering them a high Thomson Reuters jobs salary.
Job roles offered in Thomson Reuters
QA Software Test Engineer, Corporate Finance Solutions Architect, UI Engineer, API Engineer, DevOps Engineer, System Engineer, Cloud Developer, Technical Engineer, Back End Software Engineer, Associate Content Developer, QA Automation Engineer, Site Reliability Engineer, Full Stack Engineer, Business Operations Analyst, Data Scientist, Software Development Engineer are few of the job roles available for freshers in Thomson Reuters.
Let us see a few of the job roles and responsibilities
QA Software Test Engineer
The QA Software test engineer provides the planning, integration, casing, scripting and execution of all testing needed for a software change, project, or programme.

Develops test plan documents, writes and runs automation scripts, manual test cases and other things on their own. Gives advice to staff with less experience on the above and they earn a high

Thomson Reuters salary

.

Looks at business requirements, design specifications and complex changes or systems to make sure they are complete and can be tested.

Tests using manual, programmed, or automated processes that are unique to the company.

Develops and runs test scripts, leads bug triage meetings, works with the development teams and communicates independently about testing status and test results.

Usually does "hands-on" work like making design documents, reviewing deliverables and changing code on complex modules.

builds testing software for applications.

Logs defects according to the project's standards and guidelines. Analyzes defects, including their origin and cause, shares important information and confirms that defects have been fixed.

Provides subject matter expertise across sub-units.
UI Engineer 
The

UI Engineer

Meets with the design team to talk about the features and ideas for the design of the app.

Researching the designs and user interface modules of similar applications and is offered a high

Thomson Reuters salary for freshers

.

Making mockups of websites and apps with better user interface (UI) features.

Putting together updated designs for the front end for final approval.

Creating the user interface and writing the code for the front end.

Fixing code errors and figuring out what's wrong with the software.

Putting live applications through tests and making changes.

Changing web apps to match how people use them.
Data Scientist
The

Data Scientists

Identify valuable data sources and automate collection processes

Process both structured and unstructured data before analysing it. Look at a lot of data to find trends and patterns.

Make predictive models and algorithms for machine learning

By using ensemble modelling, you can combine models.

Present information using data visualization techniques

Come up with ideas and solutions to business problems.

Work with the engineering and product development teams.
Interview Process in Thomson Reuters
Depending on the job you want to get at Thomson Reuters, the interview process can be different. But most jobs will need at least one phone interview and one face-to-face interview. How hard the interviews and the Thomson Reuters salary are will depend on the job for which you are applying. You can know the Different Types Of Interviews And How to prepare for them.
How to apply for Thomson Reuters jobs
Thomson Reuters puts its application form online so that people can use it to apply for these jobs. Here's what to do below. This is how you can look through the jobs alert at Thomson Reuters to find the one that interests you the most.
To do this, go to www.thomsonreuters.com, find the jobs section and type in keywords, the work ID and the place,

Thomson Reuter's salary structure

. Then, when you are ready, click the search button.

Keep looking through the list until you find a place that interests you, then click "Apply.
Thomson Reuter's salary for freshers
The

Thomson Reuters salary for freshers

QA Software Test Engineer

is 5 LPA.

Thomson Reuters's salary for UI Engineer is 4 LPA.

The Thomson Reuters fresher salary for a Data Scientist is approximately 5 LPA.

The Site Reliability Engineer in

Thomson Reuters freshers salary

is around 3 LPA.

The salary of a Business Operations Analyst in Thomson Reuters is about 4.8 LPA.

The Thomson Reuters salary for a System Engineer is 4 LPA.

The salary of a

Software Development Engineer

in Thomson Reuters is 3.75 LPA.

The Thomson Reuters fresher salary for a Back End Software Engineer is 3.75 LPA.
Conclusion
I hope you have got an understanding of Thomson Reuter's salaries for freshers. Thomson Reuter's salary blog has given you a better understanding of the numerous qualities you need to possess before working in the IT sector. Start your career with Thomson Reuters, which provides the best freshers jobs opportunities and freshers salary for freshers bundles and value-added benefits. Candidates can advance by submitting an application and joining a fantastic IT company with a high Thomson Reuters salary.