Finding the right job for you can seem complicated, especially considering how many job descriptions and online tools you can look through. With so many options, it may be difficult to distinguish between actual job offers and fake offers from scammers. But there are a few things that all of these job scam have in common, and if you very well know what to look for, you can find real opportunities that are right for you.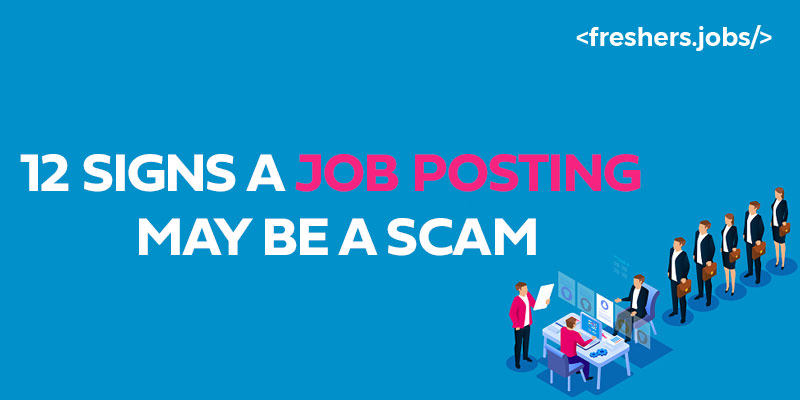 Even though there are a lot of online tools that make it easier to search, another problem comes to light. Scammers have become very clever and quick, even when looking for a job. It's no secret that many job postings include information to get people to apply. But when they show up for an interview, all the details come out, and a candidate has no choice but to leave in a huff.
Read: Look out for freshers jobs in Ahmedabad for the latest IT job openings. 
So, to help you avoid getting influenced, we have put together a list of 12 red flag that shows a job posting is a scam.
What to look for to find out if the job is a scam
How to identify fake job offers? Even though it does not happen often, scams and fake job opportunities can sometimes be found on actual job boards. If you see something in your job search that makes you suspicious, here are a few things to look for to help you figure out if the job you are interested in is real or a possible scam.
The recruiter calls you
If the recruiter or employer contacts you first, usually by saying they saw your resume online or in an email, this could be a sign that the job offer could be more genuine. Even though this is only sometimes a sign that a job opportunity is a scam, it could be if you get an offer immediately, if there are strange requests, or if there are other red flags from this list. This is because scammers want your personal information.
You will receive a job offer letter immediately
A big red flag is getting a job offer immediately without having applied for the job, talked to the recruiter, or gone through an interview as fake job offer emails. If a company offers you a job offer right away and you don't contact the company first, it could mean that the job opportunity is less real than it seems.
A proper process for hiring people can always take everywhere from a few weeks to several months. A big sign of a job scam is getting a job offer immediately without having applied for a job or talked to a recruiter. If a job is offered to you immediately and you have not spoken to the employer first, it might not be as real as it seems.
Related: How to get a job as a fresher  from freshers jobs in Mumbai
Incomplete Job Description
If you read job postings often, you may have noticed that they tell you a lot about the duties, requirements, and qualifications for the job position. They also tell you what your possible salary and benefits might be. If a job ad is vague and gives few details, it could mean that the job doesn't exist. You might get an email if you respond to this jobs alert. Keep an eye on other general things about the email, like the greetings that don't include your name. In this case, it's the same answer given to everyone who falls for a scam.
Related: How to Research About a Company Before Joining?
The pay is extremely high
If the job description says that the person will make an unusually high amount of money, that could be a red flag or a fake job offers. For example, if a job description says that the employer will pay an annual salary of 75,000 for a job that only requires 15 to 20 hours per week, it could be a sign that you should learn more about the company and job before applying.
Related: Rules for Negotiating a Job offer
The schedule is flexible
Many jobs offer flexible hours and schedules that help people find a good balance between work and life. However, a job that seems too flexible could be another red flag. A strange schedule can signify something too good to be true, especially if it comes with an unusually high salary.
For example, if a job says you will only have to work one or two days a week but still make a lot of money, you should look into it more before sending in your resume.
Read: Tips to Improve your Work-Life Balance.
They ask for personal information from you
An employer may ask for your personal information during an interview so that they can check your background. Be aware of scams if a recruiter asks for your banking information or something similar while you are still interviewing. If they don't tell you why they need this information or ask you to give it to them in an unusual way, you should probably move on as this is a job scam.
Related: How to Introduce yourself in an Interview
Asking for an interview through a message service
Virtual interviews are becoming more common in our digitally connected world. However, recruiters still follow some basic rules when hiring people online. Scammers can easily hide their identities when they use a chat or messaging service, which is very unprofessional. Employers serious about their jobs rarely ask for an interview through a messaging service.
Related: Tips for Conducting an Remote Interview
The contact information for the employer is missing
How to identify fake job offers? Not only do scam job postings need better communication skills, but they also often need more contact information or give vague details about the company. If the job posting does not have their contact information, you can do a web search to find their website, email address, or physical address. If you still can't find an address, a list of employees, or other vital information, move on to the next chance.
Related: Ways to follow up after a Job interview.
There are often mistakes in job postings or emails
Legitimate organisations never use personal email accounts to communicate. Instead, they use email addresses for businesses. If a job offer comes from what looks like a home address, that should be a red flag. Multiple spelling or grammar mistakes are signs of the sender trying to trick you.
Related: How To Write a Professional Email
Communication seems unprofessional
Unprofessional communication is another big red flag that a job may not be real as job scam. For example, look for grammar and syntax mistakes in an email about a job offer and how the employer or recruiter writes to you.You should learn more about the job and the company if it seems unprofessional.
The salary is too low
Usually, if the pay is good, it seems true. Knowing the average pay for your job and your experience level, you can tell when a salary is too high. Most of the time, these job scams use the promise of very high pay to trick people into falling for them as fake job offers. They also don't say if the job is likely to be based on commission or if there is a guaranteed income.
Read: How To Negotiate Your Salary From Multiple Job Offers
The promise of getting rich quickly
If more than the salary scale is required by you, job scams may promise you for quick money. For example, the job posting may say that other people who worked there quickly made a lot of money after working there. This could be a trick to get you to make the wrong choice. Find the organisation online or connect with its workers on social media. This step helps you determine whether the pay structure is real.
Related: Careers that Make You Rich with High-Paying Jobs & How to Get Them
Conclusion
I hope you have got an idea and beneficial from the blog the warnings signs a job posting may be a scam. Always look for genuine organisations and freshers jobs offers by considering the above warnings. Take time to read every aspect of the company and research every perspective of the company and the job offers  by not landing any job scam.