In today's job market, Computer Engineering is among the high-demand career choices. This is mainly due to the enormous specialization offered by the field, which creates a career path for students searching for freshers jobs after completing Computer Engineering. Remember that the field of computer engineering is dynamic and constantly evolving.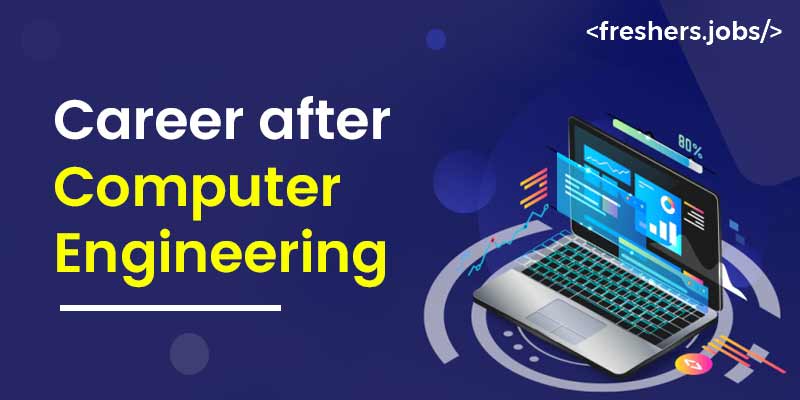 Seeking a job from the numerous career options available in Computer Engineering can be challenging in this constantly evolving business environment. But, gaining practical experience through internships, projects, and certifications can enhance your employability in this competitive job market. This blog will guide you with what are the best engineering courses and career options after completing Computer Engineering.  
Computer Engineering
Computer Engineering is a field of study and practice that combines principles of both electrical engineering and computer science to design, develop, and implement computer systems and networks. It also involves the integration of hardware and software components to create effective computing solutions. Computer engineers work on diverse technologies, from microprocessors and embedded systems to networking and software development.
Computer engineering is a diverse field that spans various industries, including electronics, telecommunications, aerospace, automotive, healthcare, and more. Professionals in this field might work on designing new computer hardware, optimizing existing systems, developing software applications, or working on cutting-edge technologies like artificial intelligence, machine learning, and IoT.
Hexaware Technologies offers a wide range of job vacancies for freshers. Interested Candidates can click on Hexaware Technologies Jobs For Freshers to apply for various job roles relevant to their skills and abilities. 
Best Degrees to pursue after Computer Engineering
Taking up higher education after the completion of Computer Engineering will further improve your career prospects. Most of the companies and organizations offer a higher salary for candidates who have advanced educational qualifications in their field. These are the best engineering course and non-engineering courses you can pursue after pursuing Computer Engineering.
M.E/M.Tech:

This is one of the most preferable choices for students who want to pursue higher studies in this field. Typically, the duration of an M.E and M.Tech course is 2 years long. Upon completing M.E/ M.Tech, you can either pursue a job or enter into the research field that is Ph.D.

Post Graduation in Machine Learning/Data Science/Business Analytics:

Data Science or its related technologies, like AI, Deep Learning, and Machine Learning, are

high-demand

fields in the industry currently. Also, Business Analytics is a developing domain that is parallelly growing like Big Data and Data Science. A postgraduate degree in Data Science/Business Analytics is preferable for

computer engineering

graduates who want to enter the Data Science and Big Data fields.

MBA:

An MBA course is one of the preferable choices for candidates who are fascinated towards the world of business management. Both the options of pursuing an MBA degree from India or from foreign universities are preferable.
If you are in search of job opportunities in Coimbatore, you can look for job openings available in that city. Visit fresher job openings in Coimbatore to find job positions that are relevant to your skills and abilities. 
Eligibility to become a Computer Engineer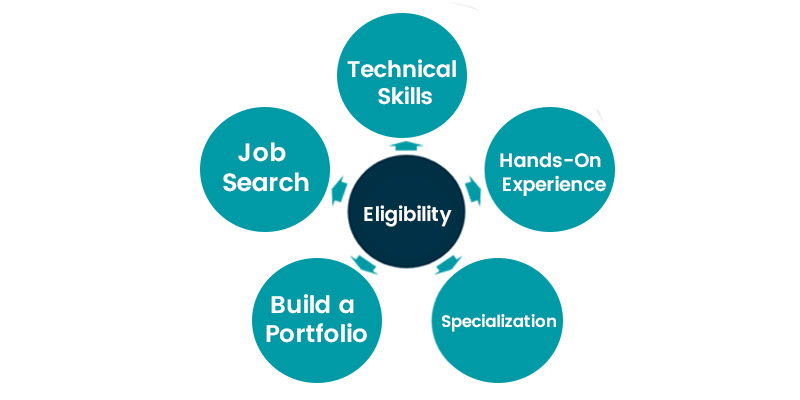 To become a Computer Engineer, a candidate should follow the below mentioned Tips. These are the tips for how to become a computer engineer.
Gain Technical Skills:

Acquire proficiency in programming languages commonly used in the field, such as C++, Java, Python, and more. Develop skills in hardware design, software development, networking, and system analysis.

Hands-On Experience:

Participate in coding projects, internships, co-op programs, or personal projects to gain practical experience and apply theoretical knowledge.

Specialization:

Depending on your interests, consider specializing in areas like

software engineering

, hardware engineering, network engineering, or other related fields.

Build a Portfolio:

Showcase your skills and projects through an online portfolio or GitHub repository. This can be a desirable candidate when applying for jobs.

Job Search:

Look for entry-level positions such as software developer, hardware engineer, system analyst, etc. Build your resume in a way that highlights your relevant skills and experiences.
Career Options after Computer Engineering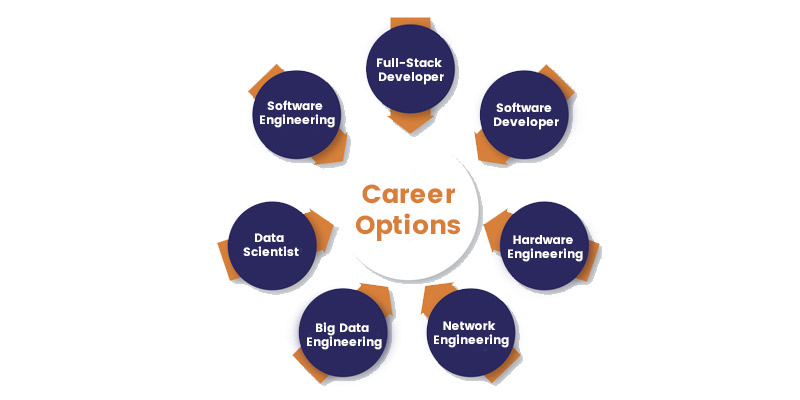 There are several career options available for candidates after completing computer engineering. After the completion of your Bachelor's degree in Computer Engineering, you will have a wide range of options to choose. You have the flexibility to select a computer engineering role that aligns with your preferences from a range of available fields. There are diverse types of computer engineering jobs an individual can opt for. Various types of computer engineering specializations and their corresponding job opportunities are listed below.
Software Engineering:

The work of a software engineer involves creating, maintaining, and enhancing software applications. This profession offers competitive compensation.  This dynamic profession not only presents the opportunity to work on cutting-edge technologies but also offers competitive compensation packages. An experienced Software Engineer's average salary is 5.5 LPA, while a fresher salary is 2 LPA. This field promises both professional fulfillment and financial reward, making it an appealing choice for individuals with a passion for technology and innovation. 

Full-Stack Developer:

Full-Stack developers play a very important role in programming and coding tasks. They assume the responsibility of conceptualizing and constructing website frameworks, following established HTML/CSS conventions and aligning with the specific criteria and desires of clients. A vital aspect of their role involves upholding thorough software documentation. Given the dual emphasis on user experience and functionality, Full Stack Developers must possess adeptness in both

graphic design

and computer programming, ensuring a seamless integration of these elements.

 

Software Developer:

For individuals passionate about coding and programming, the position of Software Developer presents an ideal fit. The IT/ITES sector consistently seeks the expertise of Software Developers, given their essential role. Proficient in a range of programming languages, like but not limited to C, C++, C#, Java, Python, Ruby, Perl, and Scala, these professionals craft inventive software programs and applications. These creations increase distinct use cases and functionalities, designed precisely to fulfill the distinct requirements of customers. Opting for a career in software development stands out as a top choice following completion of a

computer engineering

degree.

Hardware Engineering:

Upon successful completion of your computer hardware engineering degree, you can apply for the job role of a computer hardware engineer. In this role, your main task would involve the design and construction of new computer systems and hardware innovations. Moreover, as you advance in your studies within this field, job opportunities for specialization also become available, allowing you to delve deeper into specific areas of interest.

Network Engineering:

Holding a network engineering degree opens up various career options, including roles such as network manager, analyst, technician, solution architect, and specialist. In India, the approximate

Salary of a Network Engineer

is approximately 1 to 2 LPA. However, it's essential to note that salaries can vary significantly based on factors such as experience, expertise, location, and the specific organization. To maximize earning potential and career growth, network engineers often pursue additional certifications and stay updated with the latest industry trends and technologies.

Big Data Engineering:

Big Data Engineers play a pivotal role in constructing, validating, and sustaining scalable Big Data ecosystems for businesses. Their primary objective is to establish robust and efficient data systems that enable Data Scientists to execute their algorithms with stability and optimization. Working in close collaboration with Data Architects, Data Analysts, and Data Scientists, these professionals share a common goal of transforming extensive datasets into business insights. Opting for a career as a Big Data Engineer can be a rewarding choice after completing your

computer engineering

degree. 

Data Scientist:

Data Scientists are the experts in the Data Science field, specializing in deriving value from comprehensive data. Their main focus revolves around extracting insights from complex datasets. In their pursuit, Data Scientists won't gather the whole data from internal company sources but also from diverse external outlets like social media, websites, and blogs. They carefully cleanse, structure, and preprocess this data, enabling subsequent analysis to extract hidden patterns. Through this process, they gain a comprehensive grasp of how the available data can effectively address an organization's current business dilemmas.
These are the scope of computer engineering. You have the option to either pursue advanced studies or enter the corporate environment. The next topic will guide you with tips for the best course to pursue after completing a Bachelor's degree in Computer Engineering.
In conclusion, Computer Engineering is a growing and most demanded field currently. Students with expertise in this field can pursue any ideal specialization from the list mentioned above. There is a high scope for Computer Engineering in the future, including a lot of options for higher education. So, in this blog, we explored Higher education courses and career options in Computer Engineering.