Ernst and Young (EY) is a multinational professional services company that provides a wide range of services, including audit, advisory, tax, and transaction advisory services. EY is considered the "Big Four" accounting firm headquartered in London, United Kingdom. EY operates in more than 150 countries and has over 300,000 employees worldwide. EY careers offer a variety of job opportunities for freshers in different domains, such as audit, tax, advisory, and transaction advisory services.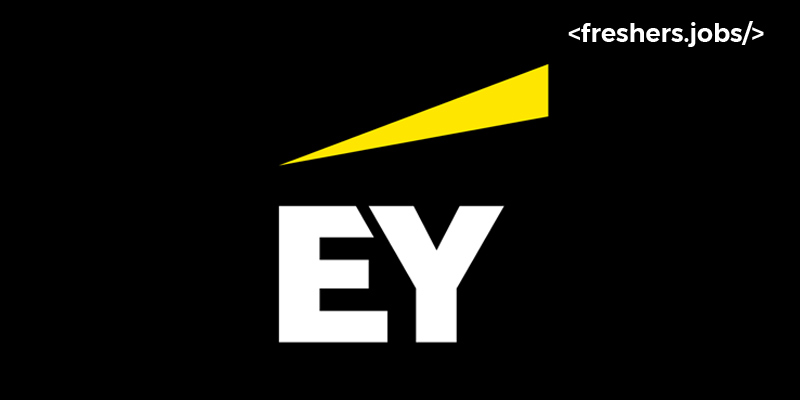 The firm values diversity and inclusion and encourages individuals from all backgrounds to apply for their roles. The company focuses on developing its employees' skills through on-the-job training, coaching, and training programs. EY also offers global mobility opportunities for its employees, allowing them to work on projects in different countries and gain international experience.
For freshers, EY offers entry-level freshers jobs, such as internships, graduate programs, and analyst roles. These roles provide a solid foundation for individuals to start their career journey and develop their skills in the professional services industry. EY also offers freshers opportunities to specialise in cybersecurity, Data analytics, and Sustainability.
EY's culture is based on its core values of integrity, respect, and teaming. The company emphasises teamwork and collaboration, and its employees work together to deliver high-quality client services.
Why do freshers choose Ernst & Young Careers?
Freshers often choose EY jobs for several reasons.
Reputation: Freshers often choose EY because of its reputable brand name, which can benefit their future career prospects.
Career Growth Opportunities: EY provides several options for career growth and development, including training programs, mentorship, and international mobility opportunities.
Diverse Work Environment: Freshers often choose EY because they appreciate the company's diverse and inclusive work environment, allowing them to work with people from different backgrounds and cultures.
Innovative Culture: EY values innovation and encourages employees to develop creative solutions to solve complex problems.
Competitive Salary and Benefits: EY offers a good freshers salary and benefits, including health insurance, retirement plans, and paid time off.
Ernst & Young Recruitment
EY jobs for freshers have a comprehensive recruitment process involving several stages, including online application, assessments, interviews, and job offers. Here are some general eligibility criteria for EY recruitment:
Candidates must hold a bachelor's or master's degree in a relevant subject, such as business, economics, finance, accounting, or a related area.
Most EY job postings require a minimum GPA of 3.0 (or equivalent) on a 4.0 scale.
EY also looks for candidates with strong communication skills, leadership potential, problem-solving skills, and a passion for learning.
At the time of applying for Ernst & Young, there must not be any ongoing backlogs.
A gap in education of more than one year cannot apply.
Basic Skills Required to join Ernst and Young Careers
Some basic skills and qualities are essential to succeed in EY careers. Here are some of the basic skills required to join EY careers:
Analytical Skills: Strong analytical skills are essential for success in EY careers.
Communication Skills: Strong verbal and written communication skills are essential for success in EY careers.
Problem-Solving Skills: EY professionals must provide innovative solutions to complex business problems. Therefore, having solid problem-solving skills is essential for success in EY careers.
Time Management Skills: Having Strong time management skills are essential for success in Ernst and Young recruitment.
Accounting and Finance: EY professionals must have a strong foundation in accounting and finance principles, including financial statement analysis, budgeting, forecasting, and audit.
Data Analysis: EY professionals need to be capable of analysing extensive data using data analysis tools such as Excel, Access, and SQL and visualisation tools such as Tableau or Power BI.
Information Technology: EY professionals must have a basic understanding of IT concepts and technologies, including cybersecurity, cloud computing, digital transformation, and emerging technologies such as artificial intelligence and blockchain.
Project Management: EY professionals must have a basic understanding of project management methodologies and tools, including project planning, risk management, and project monitoring and control, to apply for EY job openings.
How to apply for the EY Careers?
To apply for job openings at Ernst & Young, follow these steps:
Visit the company's website at www.ey.com
Look for the "Careers" section on the homepage and search for available jobs for freshers.
Utilise the search bar to find job opportunities that match your preferences.
Review the jobs openings displayed on the screen.
Select a job you want and click the "Apply Now" button.
Complete all required fields on the application form and submit it before the deadline.
Make a printout of the confirmation page for future reference.
Ernst & Young Documents Required
Candidates must mandatorily carry the following documents to the Ernst & Young recruitment.
A recent passport-size photo must be carried.
Updated Resume.
10th and 12th Grade Sheets.
Graduation and post-graduation certificates.
Photo identity verification (Original and Xerox copy).
Designation Offered in Ernst & Young
Audit Associate
The Audit Associate in EY jobs assists the accounting and auditing staff daily.
Establishing and overseeing audit funds.
Checking the financial data of the firm.
Preparing for and carrying out corporate finance audits.
Systematising and running internal audits.
Preparing audit accounts and reports for management.
Efficiently resolving customer audit queries.
Ensuring adherence to business and state best practices.
Mentoring and training for audit interns.
Advisory Associate
The Advisory Associate in Ernst and Young careers apply established practises, procedures and business policies to troubleshoot and address customer questions about products and tax support.
Carry out tax planning for customers and respond to tax-related queries.
As members come, help distribute materials to them.
Tax returns, both federal and state, and examine them.
Willingness to interact with customers using audio and visual tools.
For customers who are individuals and fiduciaries, prepare complex tax returns.
Present opportunities for quality enhancement to management and colleagues.
Depending on their needs, this flexible job helps customers prepare their own tax returns or complete customer tax returns.
Gather and examine supporting paperwork for tax return filings.
Aid in the creation of annual and quarterly forecasts.
Create management reports about the procedure of tax foreclosure.
For more job opportunities, recent graduates can look out for freshers jobs in Delhi for high-salary.
Financial Analyst
The Financial Analyst tracks operational data and performs financial forecasting, reporting, and analysis.
Analyse financial information and produce economic models to aid in decision-making.
Reflect on financial results and get ready for recurring leadership evaluations.
Examine previous outcomes, conduct a variance analysis, spot patterns, and suggest advancements.
To guarantee accurate financial reporting, collaborate closely with the accounting staff at EY fresher jobs.
Comparing and analysing real results with plans and forecasts will help you assess financial performance.
Establishing and enforcing policies and procedures will direct the expense analysis process.
Provide trend and forecast data, as well as optimisation action recommendations.
Using data analysis, comparative analysis, and recommendation, research suggested techniques and material changes.
Improve processes by identifying them, driving them, and producing tools, Excel graphs, reports, and ad-hoc reports.
CyberSecurity Analyst
The Cybersecurity Analyst knows a lot about the cybersecurity danger landscape.
Perform a risk analysis of the threats to your company, understand them, and evaluate the security threats they pose.
Investigate any breaches and other security events that happen using your investigative skills.
Assist in creating secure networks and identifying best practices.
Keep records of incidents and produce reports for the team's important personnel.
Help the security staff create and implement security policies by working with them.
Choose the best tools for any particular security problem.
Collaborate with other security team members to strengthen roles and offer advice. For example, having pen-testers assist with ethical hacking at EY jobs for freshers.
Technology Consulting Analyst
The Technology Consulting Analyst oversees the development of new features for software and systems, including making suggestions and creating prototypes.
Work together with outside vendors to support systems and software.
Create a plan for and keep up a technical backlog, and give the leadership team progress updates.
Create, refine, and implement a product plan with your scrum team.
Understanding current business procedures will help you to add to the creation of new techniques and system designs.
Work as a cooperative team member and autonomous individual contributor.
Assist the assigned team as a critical resource and subject matter expert.
Use your knowledge and abilities to improve things in all facets of software and systems.
Dispense subject-matter knowledge in report writing, data analysis, data integrity, business process design, and software and system setup.
Interview Process in Ernst & Young
Ernst and Young have a rigorous interview process for hiring freshers, typically involving multiple rounds. The following is an overview of the interview rounds in EY careers. You can excel at it with the right preparation tips.
Online Application: The first step in the EY interview process is to submit an online application through their career website. The application will typically ask for your personal information, educational qualifications, work experience (if any), and other relevant details.
Aptitude Test: The next round is an aptitude test, which is designed to assess your analytical, numerical, and verbal skills. The test may include multiple-choice questions, data interpretation exercises, and other assessments to evaluate your aptitude and critical thinking abilities.
Group Discussion: If you pass the aptitude test, you may be invited for a group discussion round. In this round, you will be given a topic to discuss with other candidates. The aim is to evaluate your communication skills, teamwork, and ability to present your thoughts coherently.
Technical Interview: The technical interview assesses your knowledge and skills in your field. The interviewer may ask about your academic background, internships, or work experience. They may also ask you to solve problems or explain technical concepts.
The HR Interview is the last round, where a senior HR executive will interview you. The aim is to assess your fit with the company culture, career aspirations, and personality. This round may include questions about your strengths, weaknesses, and how you handle challenges.
Training and Development in Ernst & Young
New jobs and businesses are continuously emerging, and the workplace is no different at Ernst and Young careers. You may possess abilities and talents that you must still be conscious of. EY has introduced a programme called EY Badges to aid in your discovery and development of these skills.
With EY Badges, you can acquire digital badges for in-demand abilities like data visualisation, Data science, and AI. Additionally, you can gain badges for abilities like inclusive intellect and transformational leadership. You must participate in the required learning, take on new challenges, and give back to the community to receive a badge.
Because EY Badges are portable and shareable, you can show your skills and dedication to EY coworkers and the larger business community. In today's fast-paced work market, you can maintain relevancy and competitiveness by consistently transforming and bettering yourself. With EY Badges, you can remain on top of trends and make sure your career is future-proof at EY fresher jobs.
Benefits offered in Ernst & Young
EY is known for providing its employees with various benefits and perks. Some of the benefits offered by EY include the following:
Health and Wellness Benefits
Flexible Work Arrangements
Professional Development
Retirement Benefits
Paid Time Off
Financial Benefits
The work environment at Ernst and Young
Ernst & Young values diversity and inclusiveness and aims to make an environment where everyone can feel good and comfortable bringing their whole selves to work. EY also promotes work-life balance, flexible work arrangements, professional development and advancement opportunities.
The Ernst & Young salary for freshers is good for the recent joinees at EY careers. The salary of a CyberSecurity Analyst is around 4 LPA, and that of a Technology Consulting Analyst is about 3.5 LPA.