Many companies accept resumes through online job applications, but some jobs alert may ask you to send a resume by email. In this case, carefully read the job openings and do what it says to meet the employer's needs and know how to send resume in email. If you send your resume in an email, the employer is more likely to get it, which can improve your chances of getting a job or an interview.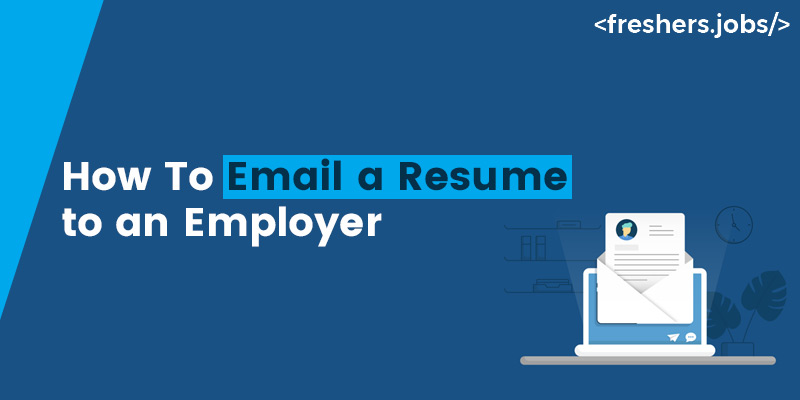 Sending a resume by email to a company can be a key step in getting a job. In the present age we live in now, many companies prefer to get resumes by email. It's essential to know how to email your resume professionally and effectively. Writing a clear and concise email showing off your skills and qualifications can help you positively impact a recruiter and increase your chances of hiring. In this blog, we'll tell you how to format your email, what to put in the subject line and cover letter, and how to write a convincing message when you email your resume to a job.
Let us know the steps to send a resume to an Employer
Emailing a resume to an employer is a common practice in today's freshers jobs search process. Submitting your application and showcasing your skills and qualifications to  employers is convenient. However, sending an email that could be more professional or formatted can reduce your chances of getting hired. This blog will provide in-depth content on emailing an employer a resume.
Customise your Resume
Before emailing your resume, ensuring it's tailored to the job you're applying for is essential. Customise your resume and use mail format to send resume to fit the job description and highlight your relevant skills and experiences. This customisation shows that you have taken the time to understand the job and are serious about your application.
Create a Professional Email Address
Create a professional email format for sending resume  to use for your job search. Avoid using unprofessional emails." Instead, use your first and last name or a combination of your initials and last name.
Create a Subject Line that is Straightforward and Brief
Your email's subject line will be the first thing the employer sees, so it must be succinct and straightforward. To make it simple for the hiring manager to recognise your application, include the job title and your name while writing the subject line.
Format your Mail
It's important to format your email when sending your resume by email carefully. Make sure your font size is between 10 and 12 points, and use a professional font like Arial or Times New Roman. Make your email simple to read by using bullet points and brief paragraphs.
Keep it Concise
How to mail resume for job? Your email should always be brief and to the point. Include a brief introduction, the position you're applying for, and why you're interested in the job. Use bullet points to highlight your relevant skills and experiences, and thank the employer for considering your application. You can learn how to write an email to an hiring manager.
Attach your Resume
Attach your resume to the email in either PDF or Word format. Label the file with your name and the job title to make it easy for the hiring manager to identify your application. Make sure the file size is small enough to send via email.
Candidates can send resumes and start applying for job openings from freshers jobs in Noida.
Proofread your Email
Before pressing send, make sure to proofread your email for any errors. Check for mistakes in spelling and grammar mistakes and make sure the formatting is correct and know how to send resume in email. A well-written and error-free email can make a good impression on the hiring manager.
Follow Up
After emailing your resume, following up with the employer is essential. Wait for a few days to a week before sending a follow-up email. In your follow-up email, thank the employer for considering your application and express your continued interest in the position.
Consider the Company's Instructions
Finally, before emailing your resume, follow the instructions provided by the company. Some companies may prefer you to apply online through their website or a job board, while others may like you to email your application directly to them. Make sure to follow their instructions to ensure that your application is considered.
How to write a subject line for sending a resume to an employer?
When emailing a resume to an employer,mail format to send resume and the subject line is quite important. It should be succinct and straightforward, emphasising your interest in the job and making it simple for the company to recognise your application. The following advice and tips will help you create a subject line that will get your resume noticed by employers:
Use the job title: Include the job title in your subject line to clarify which position you're applying for.
Include your name: Including your name in the subject line helps the employer identify your application and makes it more personalized.
Use a reference number: If the job posting has a reference number, include it in the subject line to help the employer track your application.
Be specific: Use keywords related to the job posting to show that you have read and understood the requirements.
How to write a Cover letter for sending a resume to an employer?
How to send resume in mail? Your job application must include a cover letter, which might differentiate you from other applicants. In it, you should identify yourself, list your qualifications, and discuss your motivation for applying for the position. The following advice will help you write a cover letter to send with your resume to employers:
Address the employer: Start your letter by addressing the employer by name and introducing yourself. If you don't know the particular name of the person who will be reading your letter, use a professional email greeting such as "Dear Hiring Manager".
Explain your interest: Briefly explain why you are interested in the job and what drew you to the position or the company. This shows your enthusiasm and passion for the role.
Highlight and Emphasise your qualifications: Use the body of your letter to highlight your qualifications and experience and how to write mail for job. Be specific and use examples to show how your skills and experience match the job's requirements.
Show your personality: Your cover letter is also an opportunity to show your personality and let the employer understand who you are. Feel free to inject some personality and highlight your strengths and unique qualities.
Close professionally: Always conclude your letter by thanking the employer for reviewing your application and expressing your excitement about the chance to participate in a job interview.  Provide your contact information and let the employer know you are available to discuss your qualifications further.
Freshers can start sending resumes to top companies and apply for Mphasis jobs for freshers.
Conclusion
In conclusion, emailing your resume to an employer is an important step in the job search process and sending an employer your resume by email. By writing a polished and professional email, you can always boost your chances of getting hired with high fresher salaries using these suggestions. How to send resume in email ? Remember to customise your resume, create a professional email address, use a clear and concise subject line, format your email correctly, keep it concise, attach your resume, proofread your email, follow up, and consider the company's instructions. Good luck in your job search!