The NIMCET is a national-level entrance test that NITs can conduct for admission into their MCA program. NITs in Agartala, Allahabad, Bhopal, Jamshedpur, Kurukshetra, Raipur, Surathkal, Tiruchirappalli, and Warangal all offer the MCA course.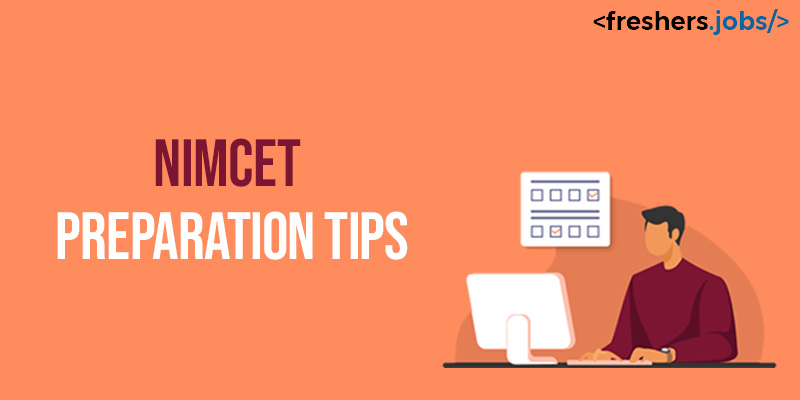 Tips for the NIMCET Exams will help people prepare for the NIMCET Exams. Basic and theoretical topics can be prepared with not much of difficulty.
Candidates are encouraged to review the NIMCET Preparation Tips in the following sections. With these tips, the candidates will be able to study without stress and do well on the test to get the right job opportunities.
Eligibility Criteria for the NIMCET Exam
Indian candidates must have graduated with at least 60% or 6.5 CGPA in Science, IT, CA, Technology, or Engineering to qualify for NIMCET. NIMCET is the way to get into MCA Programs in the 10 NITs that are taking part.
Preparation Tips for NIMCET
The following skills of a candidate are tested by NIMCET:
Mathematical Skills

Analytical and logical thinking skills

Computer Knowledge

Comprehension and general English skills
How to crack NIMCET? Only by mastering the fundamentals and consistent practice can these skills be obtained. So, in order to assist you in passing the test with a good mark, we have provided the following list of NIMCET preparation tips from experts. You can even go through how to improve your english pronunciation greatly.
NIMCET Study Advice
When should you begin preparing for the NIMCET?
The exam that needs between six and twelve months of preparation is the NIMCET. The following breakdowns will help you comprehend the time span needed for the NIMCET:
Concept clarification: 2 to 3 months

Regular Practice: two to three months

Mock exams and revision: two to six months.
Learn the fundamentals of each topic to achieve high marks. Determine your areas of strength and weakness, then research those subjects. For a good NIMCET score, review your materials and as many sample tests as possible. A brief preparation plan for the NIMCET  exam
Understanding the exam format is the first step in

NIMCET exam preparation

.

The next step is to gather all the necessary NIMCET study material. If you are unable to begin preparing on your own, you might join a coaching center.

Start by being familiar with the fundamental ideas of each subject that will be tested. The NIMCET syllabus covers Mathematics, Logical Reasoning, Computer and English through Class XII.

Practice keeping track of the time, as this will aid with time management throughout the exam. Additionally, get in the habit of avoiding calculator use when answering mathematical and calculation-based questions.

Identifying strong and weak areas will be easier if each topic is thoroughly read and revised. Once you are aware of your areas of strength and weakness, focus on strengthening those first.

Mock exams should be taken as soon as you finish your course. Exam pattern familiarisation is greatly aided by practice exams and old question papers.

To improve, practice more. Mock exams might be quite beneficial.

You should take a minimum of 1 to 3 practice exams each week. Analyze each practice test you take as well.

Don't study a new topic right before an exam for the

NIMCET preparation strategy

.

Work only on improving your weak areas while reviewing your strong areas.

With the right preparation and upon completion of the course, you can look into

freshers jobs in Chennai

for the latest openings.
Preparation for NIMCET Subject-Wise
Tips for Preparing for the NIMCET in Mathematics
Algebra, Probability and Statistics, Geometry, Trigonometry, Calculus and Modern Mathematics are all covered by NIMCET.

You can use the advice provided below to help you study for Math

Clear up all of your ideas and learn the formulas. You won't be able to answer challenging questions if you don't comprehend the fundamentals of any subject.

Learning time-saving tips and strategies for some questions rather than following the standard approach. Practice answering arithmetic problems in two minutes or less.

Make a list of all the crucial and straightforward formulas and review them frequently while you practice.

When you practice math, look for simple, moderate, or tough questions and respond appropriately. Time is saved in this way.

Practice answering more questions in a shorter amount of time. You will gain more from answering three simple questions than one difficult one for

NIMCET preparation tips.

The last and most important advice is to practice. Practice mathematics endlessly since this is the only way to succeed in this subject.

To succeed in time management, you can read the

time management techniques to work efficiently.
Tips for Preparing for the NIMCET on Analytical Ability and Logical Reasoning
The questions in this section will be based on the passage's facts and logical situations. 

There isn't a standardized syllabus for this area. 

Therefore, for many, studying for this portion may be challenging. However, the only way to ace this section is through practice.
You can use the Advice Listed below to Ace this Section
Learn about different graphs, numbers, series and riddles.

To hone your analytical abilities, solve puzzles like Sudoku and crosswords.

Each day, attempt 20 questions or 4 sets. Try to complete each set within 8–12 minutes. 

Each set should typically take 10-15 minutes.

Practice mock tests once again. 

They are the only ones who can familiarise you with the NIMCET question types.

Go through the

tips to improve your problem solving abilities

.
Tips for Preparing for the NIMCET in General English
If you pay a little attention to

NIMCET strategy

, the General English section is the one that consistently scores well. 

Your topic knowledge and skill will be put to the test in this phase. 

It covers the following subjects: Word power and vocabulary, technical writing, comprehension, fundamental English grammar, word and phrase meaning, etc.

Reading a lot is the first and most crucial English section advice. Anything can be read in English, including fiction books, newspapers, periodicals, etc.

Then, practice questions based on the fundamentals of English grammar, including articles, tenses, parts of speech, etc.

You must choose whether you wish to read the passage first and then answer the questions for reading comprehension tests or the opposite. You can develop so by knowing

effective ways to enhance your verbal communication skills

.

Knowing your comfort zone is crucial since it will help you become accustomed to the exam's questions.

Establish the practice of writing down new words you learn along with their synonyms and antonyms as

NIMCET preparation

. Your vocabulary will grow as a result.
NIMCET Computer Awareness Study Tips
Questions on data representation and computer fundamentals are part of the computer awareness test. One of the simplest sections is this one. Here are some pointers to remember while you get ready for this section:
Since this component merely tests your understanding of computer fundamentals, it won't burden you much if you studied computers in high school and upon graduation.

An introductory book for this subject should be bought, especially for the NIMCET. 

Start using this book as a practice tool and you will soon be able to answer computer problems easily.

It is possible to prepare for topics like computer organization, central processing unit (CPU), input/output devices, computer memory and backup devices using a class 10 computer book.

Character representation, integers and fractions, binary arithmetic and Boolean algebra are some of the questions in the category of data representation. 

To achieve a high score on these questions, you should have good

NIMCET exam preparation

.
Resources for Preparing for NIMCET
The English and mathematics textbooks for classes 10 through 12 are the finest sources of study material for the NIMCET. Additionally, there are particular books for various areas.

These books are available offline and online. They include all of the pertinent practice questions that are subject-specific.

It is advised to study from the NCERT math textbooks for classes X and XII for the mathematics subject.

Reading material, such as books, newspapers and magazines, is the finest way to practice your English. 
NIMCET Preparation Advice
Here are some important preparation tips and points to help students prepare well and pass the exam with a high grade for NIMCET exam preparation.
Time management is essential for succeeding in any exam. The time for each section should be divided up properly by the students. Students should practice exam questions while considering the time allotment during exam preparation. This will assist students in managing their time in the exam room so they can answer all the questions. Give the hard questions extra time by completing the simpler ones first. Only if they control their time in the test room will the candidates be able to answer every question. Therefore, practice is necessary to answer all the questions within the allotted time. You can look for career opportunities for graduates in B.Tech computer science.
Conclusion
I hope you are clear from the blog that the NIMCET preparation tips. We can assure you that students will do well on the exam if they follow the NIMCET tips from freshers jobs. The best score is achieved by how hard the student works in his studies. When a student works hard, getting good grades comes easy. So, we wish all the students luck on their exams and future endeavors for higher freshers salary jobs.