The OJEE (Odisha Joint Entrance Examination) is a state-level government entrance exam conducted in the Indian state of Odisha. It is the gateway for admission into various undergraduate and postgraduate engineering, pharmacy, management, computer applications, and more courses. Proper OJEE preparation is important for success in the OJEE exam, and here are some tips to help candidates excel: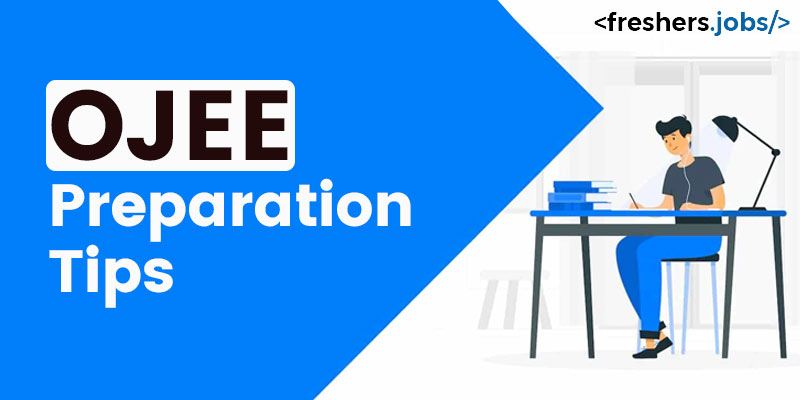 The Eligibility Criteria for the OJEE exam
The eligibility criteria for the OJEE (Odisha Joint Entrance Examination) may vary depending on the course. Here are some general eligibility criteria:
Nationality: Candidates must be Indian citizens to be eligible for the OJEE.
Age Limit: For undergraduate courses, there is no specific age limit.
Educational Qualification: The educational qualifications required vary according to the course. Here are some common criteria:
Candidates must have cleared 10+2 or relevant exams from a recognised board with Physics, Mathematics, and one of Chemistry/Biotechnology/Biology/Technical Vocational Subjects as compulsory subjects for undergraduate engineering courses.

For undergraduate pharmacy courses, candidates must have passed 10+2 or equivalent exams with Physics and Chemistry as mandatory subjects along with one of Mathematics/Biotechnology/Biology/Technical Vocational Subjects.

Candidates must have a bachelor's degree from a recognised university for postgraduate courses in the relevant field.
Minimum Marks: Candidates must have obtained a minimum percentage in the qualifying exams specified by the respective institutions. You can look for Career Opportunities for Graduates in B.Tech Computer Science.
Preparation Tips for OJEE Exams
To excel in the OJEE, candidates need a well-planned and strategic OJEE exam preparation approach. This blog will provide a detailed and in-depth roadmap to help you prepare effectively for the OJEE exam and maximise your chances of success.
Understand the OJEE Exam Pattern
To begin your preparation, it is essential to understand the OJEE exam pattern thoroughly. Familiarise yourself with the exam structure, the number of sections, the duration, and the marking scheme. This understanding will help you plan your study schedule and allocate time to different subjects.
Create a Study Plan
A well-structured study plan is the foundation of effective preparation. Break down the OJEE syllabus into manageable sections and set realistic goals for each study session. Allocate time for regular revisions to strengthen your understanding of the topics. Additionally, ensure that your study plan allows ample time to solve practice and previous year's question papers.
Know the OJEE Syllabus
How to crack OJEE exam? To prepare effectively, it is crucial to have a comprehensive understanding of the OJEE syllabus. The OJEE syllabus may vary depending on the course you are targeting. Obtain the official syllabus from the OJEE website and identify the important topics for each section. Focus on building a strong conceptual foundation and ensure you will cover almost all the important topics within the stipulated time. You can search for freshers jobs in Chennai for private and government jobs.
 Gather Quality Study Material
To enhance your preparation and OJEE exam tips and tricks, gather quality study material that covers the OJEE syllabus. Utilise recommended textbooks, study guides, and online learning resources to supplement your understanding of the topics. Referring to multiple resources can provide diverse perspectives and help you comprehensively understand the subjects.
Solve Previous Year's Papers and Sample Papers
Solving previous year's papers and sample papers is integral to OJEE preparation. It familiarises you with the exam pattern, helps you understand the questions, and enables you to assess your strengths and weaknesses. Allocate time regularly to solve these papers under exam-like situations to improve speed and accuracy.
Practice Time Management
Time management is important during the OJEE exam. Develop strategies to solve questions within the allotted time for each section. Practice solving questions with a timer to improve your speed and efficiency. Regularly evaluate your performance and identify areas where you can save time without compromising accuracy.
Seek Guidance and Clarify Doubts
Do not hesitate to seek guidance from teachers, mentors, or coaching institutes as an OJEE exam strategy. Discussing concepts, clearing doubts, and seeking feedback can significantly enhance your preparation. Joining a reputable coaching institute or participating in study groups can provide valuable insights and preparation tips from experienced professionals.
Regular Revision
Consistent revision is key to retaining information and reinforcing your understanding of the topics as OJEE preparation. Allocate dedicated time for regular revision, ensuring you comprehensively cover all subjects. Reviewing previously learned concepts regularly will help you retain information and boost your confidence to get great jobs alert.
Mock Tests and Self-Evaluation
Take regular mock tests to simulate the actual exam environment and assess your progress. The Mock test preparation will help you to identify your strengths and weaknesses, enabling you to focus on areas that require improvement. Analyse your performance, identify patterns of mistakes, and work on strengthening your weaker areas.
Stay Updated on Current Affairs
Stay updated with the latest happenings in your field of study and current affairs. This knowledge can greatly improve your general knowledge and the various happenings around the world.
Last-minute preparation tips for OJEE Exam
Last-minute OJEE exam preparation can boost your confidence and solidify your knowledge. Here are some effective last-minute tips to make the most of your preparation:
Review Key Concepts
Focus on revising each subject's key concepts and formulas.

Identify the topics that carry more weight in the exam and prioritise your revision accordingly.

Make concise notes or flashcards to recap important information quickly.
Freshers can know how to improve their confidence to boost your career and earn high freshers salary.
Solve Mock Tests
Take advantage of OJEE mock tests and sample papers available online or from coaching institutes.

Practice solving these papers within the stipulated time to simulate the exam conditions.

Analyse your performance, identify weak areas, and work on improving them.
Time Management
How to crack OJEE exam

?

Use these last few days to refine your

time management

skills. 

Practice solving questions quickly and efficiently, allocating appropriate time to each section. 

Remember to focus on accuracy while maintaining a steady pace.
Focus on Weak Areas
Identify your weak areas through self-assessment or analysis of mock tests.

Devote more time to revising and practising questions from these areas.

Seek help from teachers, mentors, or fellow students to clarify doubts.
Quick Revision of Formulas and Concepts
Create a quick reference sheet or flashcards containing each subject's important formulas, concepts, and shortcuts. 

Review these frequently during the last few days to reinforce your understanding and recall them easily during the exam.
Prioritise Important Topics
While revising for

OJEE exam preparation

, pay special attention to the topics that have historically carried more weight in the OJEE exam. 

Focus on understanding the underlying concepts, solving related problems, and practising the previous year's questions from these topics.
Maintain a Positive Mindset
Stay calm and maintain a positive mindset during the final days of preparation. Believe in your abilities and trust the hard work you have put in so far.

Avoid overwhelming yourself with excessive study hours and ensure you get enough rest and sleep.
Avoid Learning New Topics
It is not advisable to start learning new topics during the last few days of

OJEE preparation

. Instead, focus on revising and reinforcing what you have already studied. 

Trying to learn new concepts may confuse you and distract you from consolidating your existing knowledge.
Stay Healthy
It's good to take care of your physical and mental well-being. 

Maintain a balanced diet, exercise regularly, and get enough sleep. 

Avoid excessive stress and practice relaxation techniques such as deep breathing or meditation to stay calm and focused.
Read Exam Instructions
Familiarise yourself with the exam day instructions and requirements. 

Know the reporting time, exam centre location, and any

necessary documents

or materials you need to carry. 

Being prepared for

OJEE exam preparation

and organised will help you start the exam day stress-free.
Last-minute preparation should focus on revision, practice, and boosting confidence. Trust your preparation, stay focused, and approach the exam calmly and positively.
After the Course from the reputed institution, You can tap for jobs from Cognizant jobs for freshers.
Conclusion
Effective preparation is crucial for success in the OJEE exam. By following the comprehensive tips provided, candidates can enhance their chances of achieving their desired results and land dream freshers jobs. Understanding the exam pattern, creating a well-structured study plan, and revising key concepts are essential for preparation. Finally, in the last-minute preparation phase, quickly revising formulas and concepts, prioritising important topics, and maintaining good physical and mental health are key. With dedication, perseverance, and the right strategies for OJEE preparation, candidates can confidently approach the OJEE exam, paving the way for success and realising their academic aspirations.