Common Entrance Examination for Design (CEED) examines admission to Master of Design (M.Des) Courses programmes at IISC Bangalore, IIT (Bombay, Delhi, Guwahati, Hyderabad, Kanpur, and Roorkee), as well as PhD programmes at several IITs and design schools with right CEED preparation.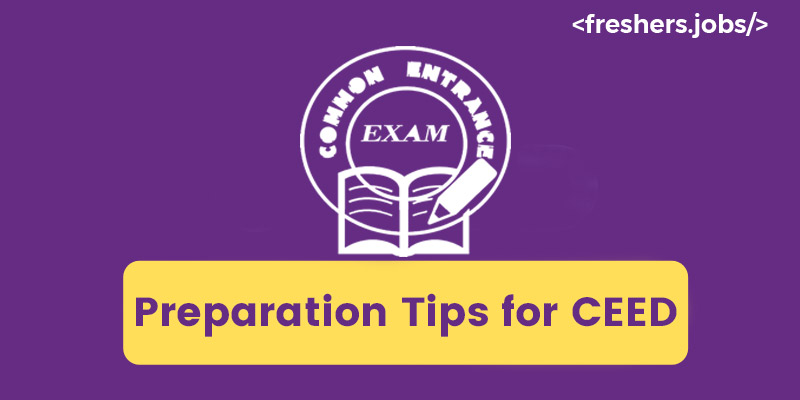 The Indian Institute of Technology (IIT), Bombay, on behalf of the Ministry of Human Resource Development, Government of India, conducts the CEED – Common Entrance Examination for Design to offer admission to M.Des – Master of Design and PhD programmes. The Common Entrance Exam for Design (CEED) assesses a candidate's aptitude for design, including visual perception, drawing skills, logical reasoning, creativity, communication, and problem-solving abilities.
Eligibility Criteria
Bachelor's Degree in Design / Engineering / Architecture / Interior Design, B.Plan, B.Sc (Engg), Professional Diploma in Design, BFA., GD Art Graduates are eligible to apply for CEED Exam.
In this Blog, we shall discuss the CEED exam preparation. Here are a few CEED preparation strategies, ideas, and suggestions. These CEED preparation tips have been prepared for students with the help of professionals. 
Start Early
Candidates who need help preparing for the CEED should get started as soon as possible.

You will have enough time to make a timetable, examine the CEED curriculum, and proceed at your speed if you begin your CEED preparations early.

Another advantage of starting early is that you can devote a lot of time to your studies and focus on revising over the last few months.

How to crack CEED

? Start early, and start tomorrow.
Understand the Exam Pattern and Syllabus
You must be completely prepared for everything you will face.

Consider CEED a challenge you will encounter, and know how to prepare for the CEED exam.

Before starting your studies, you should know the CEED exam basic syllabus and exam methodology.

The CEED exam pattern outlines how the exam will be structured, whereas the syllabus outlines the subjects and units that must be covered.

This will aid in coordinating the timetable for the whole preparation period.

Know which subject has a high weightage
Always Boost your Imaginative Power and Creativity
The Candidates must always prepare and know

how to crack CEED exam

and read through the Interaction Design and Visual communications. 

These topics and themes are covered in the most popular books available online and in the market. 

The Aspirants can also learn about the issues by visiting many E-Commerce websites. 

The CEED exam looks for the candidates creativity and also the innovative way of thinking. 

Henceforth, candidates must strive to answer the exam questions differently if they wish to. This will boost your chances of getting through the exams.
Improve your 3D drawing abilities
To clear the CEED Entrance exam, the candidates must improve their drawing and design skills. 

The candidates must be able to visualise and build a three-dimensional building model. 

The aspirants can master their three-dimensional skills by practising the designs and drawings that can help them gain good practice in design methodologies. Consistent practice can help you also gain a better understanding of sketching and also allows you to prepare for future design projects.
Effective Time Management Skills
Time management is the most important criterion for

CEED preparation tips

when preparing for CEED competitive exams.

So managing your time is an essential aspect during study time.

If the time management is not handled correctly, then there are chances for you not to complete the question paper fully.

Practise as many as the previous year's papers, and try to solve every question by setting up a stopwatch as a part of the preparation for CEED.

Look out for that time and see how much you can finish the paper within the stipulated time.
Prepare for the CEED Question Papers, Sample Papers, and Mock Tests
One essential

CEED preparation strategy

that every candidate can follow is the habit of practising the mock papers. 

Practising Mock papers will surely make you gain confidence, and you will know how to solve problems. 

By solving the mock papers, you can work out the time management to feel easier while appearing for the main CEED Exams. 

You can regularly take the Mock papers to perform in the exam. 

You can even increase your preparation rate by analysing the section score.
Always focus on your Weaknesses
You can determine the areas you are weak and the areas for improvement. 

You can read and get all the fundamental ideas before working out in your weaker areas as preparation tips for good

jobs alert

.

You need not spend more time on the basics of the areas you are familiar with. 

Instead, you can spend more time practising the weaker sections. 

Practice more and more previous year's question papers which are supposed to be excellent

CEED preparation

tips for thriving and getting strong in the weaker sections. 

This will broaden your correct perspective and assists you in acquiring the proper time management and structure as exam preparation tips.
Previous Year's Toppers' CEED Preparation Strategies
Aspirants for the CEED can use the CEED preparation tips from earlier CEED toppers. The following are some CEED preparation tips used by CEED toppers.
Preparation Strategy: Create a clear exam strategy that will be followed during the CEED exam preparation. It is critical to understand the CEED exam pattern and syllabus. Understanding the question format will assist you in effectively preparing for the exam.
Important Topics: Once again, knowing the essential topics for CEED exam preparation is important. General design knowledge is an important topic in Part A, whereas perspective drawing should be the main focus in Part B.
Avoid making mistakes: Make no mistakes. Students frequently experience stress and anxiety before the exam, enough to stop months of hard work. Maintain your composure and confidence.
Apply the '3P' rule. The topper's '3P' rules are Practice, Practice, and Practice. Practice makes perfect, and this is precisely what you must do to pass the CEED exam.
CEED Preparation by Reading Important Books 
Always make a habit of studying or reading at least one textbook for each topic that is covered in the CEED Syllabus. 

The candidates can always learn from the best books for CEED. 

You can also refer to other books from famous publishers to prepare for the CEED Exams. 
Taking notes is the best thing to do
The best way for a candidate to improve at the

CEED preparation strategy

and remember what they have studied is to write notes or make notes while learning.

The candidates can take down points, write down all the points in a notepad, or write down the essential topics in a diary. 

This will be an excellent way to study, and all of the vital facts will be close at hand.

Make sure you write down the points clearly so that you can understand them during the test and avoid getting confused.
Focus on the essential things or sections
A candidate can be good at one thing but better at something else.

Candidates should try not to get down because of it. Plan to work harder on the parts that could be better to improve them.

You can get help from your trainers or friends for help if you need help understanding something.

For better preparation for the CEED exam, you can always work through old question papers to find your weaker areas and spend more time on them.

This method allows you to get through the more complex parts and feel more confident.
Exam Strategies
Having plans can make it easier to get ready. Before studying, candidates should make a plan for the exam as

CEED preparation tips

.

It will help them get through the whole curriculum and give each topic simultaneously. 

The first thing candidates should remember is the timetable. 

This will remind them to spend a few time on each question.
Revise Regularly
Review is the essential preparation tips as your are preparing hard.

 It helps you remember more and get your thoughts for the test. 

You train your mind to recognise the questions and answers when you review. 

Candidates can review the questions from last year to understand what will be on the exam question paper. 

Reviewing helps calm your fears about the test and gives you a confident  at the last minute. 

It will help you get better at getting ready for the test.
Take breaks often
How to crack ceed

? When studying for the CEED exam, candidates should never be in a hurry. 

This is one of the essential things that toppers did to prepare for the CEED.

When candidates rush through the subjects, they need help understanding the more complicated ideas.

Some challenges, like crosswords and puzzles, are a good way for the candidates to relax. Using these ideas, you can take your thoughts back and quickly find solutions.

This is one of the apt way one for exam since it does most of the hard work.

The candidates can take the preparation of CEED exam by making plans, taking breaks, and studying.
Conclusion
To wrap up, I hope this Blog has prepared you for CEED preparation. Review the preparation tips to engage yourself every minute in preparing for the competitive exams. The Right preparation, hard work, dedication and time management can lead you to top up in the CEED Exams and achieve the top scores to become a successfull Master Designer and a great guide tracker to the students. Begin your preparation right today for freshers jobs.