So, you're probably wondering what a software development career entails. Maybe you just finished your bachelor's degree, or maybe you're unhappy with your current employment and want to try something new. Whatever got you here, you're in luck because we're about to discuss some crucial information about software development.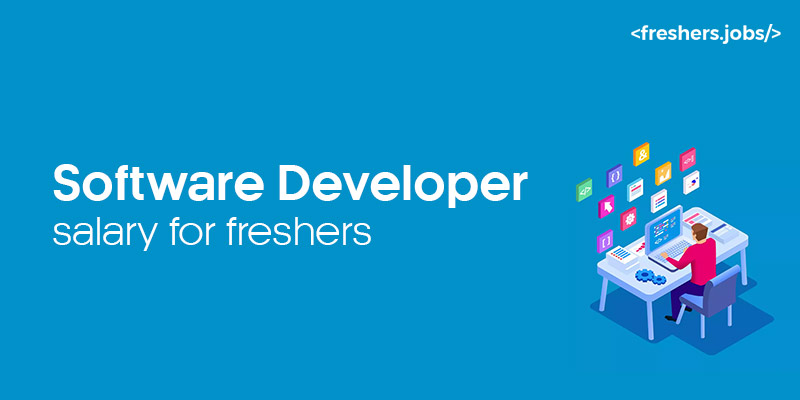 For passionate people, software development is clearly the most lucrative professional route. Making a living as a software developer might make a lot of dedication and hard work. To be a successful software developer, you must improve your abilities and expertise. Check out this blog if you're unsure about the software developer salary in India for freshers jobs path, or abilities required.
If you have a clear vision and a strong desire to become a software developer, there is no doubt that you will be successful.
What software developers do?
Software developers come up with ideas, create programs, and build them. Some develop operating systems, while others develop new mobile and desktop applications. In any instance, software engineers evaluate user demands, design programs, test new software and make improvements. 
Software developers collaborate closely with computer programmers in the computer systems, manufacturing, banking, and software publishing industries. Additionally, software developers make up a significant component of the IT profession. As a result, software developers have a wide range of possibilities, and the value of their work means that software developer salary for freshers in India is exceptionally high. 
What are the Pros and Cons of Working as a Software Developer?
Learning

software engineering

is a fun experience.

To be a successful software developer and earn a high salary, one must devote many hours to the preparations.

To give users effective and intuitive solutions, software developers must be determined and persistent.
How Do You Become a Software Developer?
One of the most critical factors in achieving your maximum potential in any career is passion. If you're interested in how computers work, software engineering or development is a great option and can earn a great software developer salary for freshers.
What do you need to be a software engineer?
You'll need the following to get a job as a software engineer:
Skills and requirements
Demonstrated experience as a Software Developer, Software Engineer, or other related position.

You're probably familiar with agile development methods.

Understanding of programming language and frameworks/systems (e.g.,

C++

, Java,

JavaScript

) Software design and development experience in a test-driven context (e.g.

AngularJS

, Git).

Experience with databases and the Object-Relational Mapping (ORM) framework (e.g. Hibernate).

Knowledge of new languages and technology.

Superior communication abilities.

Problem-solving skills and resourcefulness.
The following are the abilities needed to work as a software developer
Programming abilities
Professional developers are familiar with a variety of programming languages, but they must be adept in at least one of them. 

Today, the most popular and frequently used languages are Java, C C++, Python, JavaScript, PHP

, Go, and Swift. 

Aside from understanding backend and frontend programming languages, one should also be familiar with database technologies and frameworks such as

SQL

, Django, Ruby, and others.
Various Software Development Careers
Software developer education programs provide graduates with the hard skills and knowledge they need to pursue a variety of computer and information technology occupations. 

Your specific options are determined by your previous work experience, selected industry, geographical location, and educational level.

Bachelor's degree graduates can work as software developers or computer programmers. Higher education can increase job chances, and master's degree holders can lead development teams or work as research scientists. 

Graduates who have become software developer can expect to earn a reasonably high

software developer salary in india for freshers per month

in whichever job path they pick.
Career scope of software developer and their salaries
Application Developer
Application Developers are in charge of creating, altering, updating, testing, and troubleshooting software source code. 

The major job role is to write high-quality code to create applications that correspond to current industry standards. 

They are useful for evaluating current applications or scripts. 

Developers make updates and modifications based on the review.

An entry-level application

software developer in India for freshers

can earn around 3.5 LPA with less than one year of experience. 
System Software Developer
System software developers are in charge of developing networks and operating systems for user-facing applications. 

Both software and hardware needs must be considered. 

Their primary responsibility is to bring together numerous and sometimes disparate software needs.

An entry-level system software developer can earn around 3.5 LPA with less than a year of experience.
Full-Stack Developers
They are front-end, back-end, client-side, server-side, and database-side web application developers. 

The salary of full-stack developers in India might be considered lucrative. Each year, they earn an average of  4 LPA. 
Salary of a Software Developer in India: Based on Skills
Consider how a

software developer salary for freshers

in India improves with expertise. 

As previously said, obtaining the best-paying positions in the extremely competitive market for software developers requires an exceptional set of talents. 

Some skills will earn you extra money. So make an effort to improve these skills. 
Software Developer Salary in India: Based on job roles
There are numerous programming languages in which the developers work on. The freshers working on these domains are paid exceptionally high software developer salary for freshers in India per month. Each of which these job roles working on the latest programming languages possesses competitive salaries. Here is a list of salaries possessed by the freshers working on these languages. 
Java

– 5.16 LPA,

JavaScript – 4.8 LPA, 

SQL – 4.6 LPA

C# Programming Language – 4.3 LPA,
Dot Net– 4.32 LPA
Salary of a Software Developer in India: Location Dependent
In India, the average income for a software developer is projected to be roughly 3.5 LPA. 

Varied cities in India, on the other hand, offer various compensation packages.

 Some places will pay you more than the national average, while others will most likely pay you less.
India's Market Prospects for Software Developers
Given the numerous prospects that the Indian industry provides, a talented Software Development in India would never experience employment issues! 

If you're skilled at solving issues and algorithms, there's a job waiting for you with some of the world's finest businesses and the best

software developer salary in India

. 

SDEs are welcomed by companies such as Udaan, Flipkart, Acko, and others and tech giants such as Amazon, PayPal, and Google.

A software developer might earn anywhere from 3LPA and 3.5 LPA per year. 

For example, the industry and firm where a software development works, the organization's size, location, the software developer's expertise, reputation, and specialty are all essential variables. 

It is also vital to note that a

software developer salary for freshers

income will vary depending on the region and state.
The responsibilities of a Software Developer
Design algorithms and flowcharts with the help of developers.

Write clean, efficient code based on the specifications.

Combine third-party programs and software components.

Software and systems validation and deployment.

Troubleshoot, debug, and upgrade any existing program.

Collect and analyze user feedback.

Improvements should be suggested and implemented.

Prepare technical documentation for reporting and reference purposes. 
We hope you enjoyed our post on the salaries of software developers in India. These figures are a rough estimate. The actual determinants of your income are your abilities, the mastery you have achieved over them, and how quickly you progress and help the organization expand. A software developer's salary is governed by a number of factors that are mentioned in this article. A software developer salary in India for freshers is among the highest in the world. Your value is decided by your abilities, experience, and where you live.