The SSC CGL exam is conducted at the national level by the Staff Selection Commission (SSC) to choose candidates for Group-B and Group-C jobs in various ministries, departments, and organisations that are part of the Indian government. Each year, roughly 15 lakh individuals submit applications for the SSC CGL exam, whereas 30 lakh candidates fill out the application and land in top government jobs.
This Blog details how to prepare for ssc cgl and various strategies to prepare for it.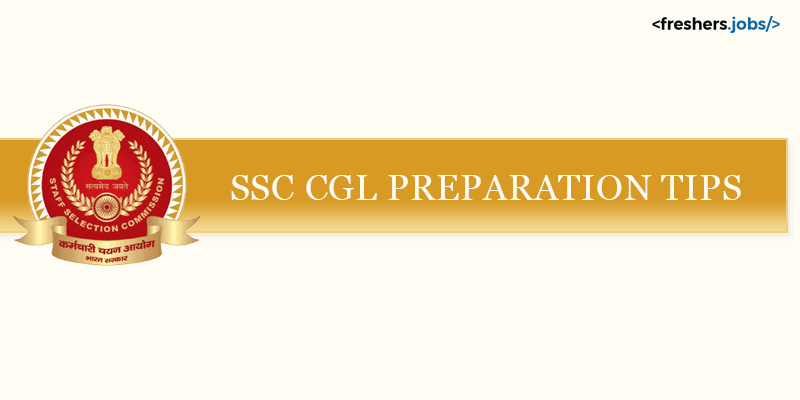 Who can apply for SSC CGL Exams?
Graduates can take the SSC CGL exam from any field.

Even college students in their last year can take the SSC CGL exam.

You must be 18 years old and not older than 32 years to take the SSC CGL exam.

Some age limits are eased for candidates in the reserved category.

This test must be hard to study for and pass for many people.

Freshers jobs

are here to help people who want to pass the SSC CGL exam find the right way to prepare by giving them useful tips and outlines.

Candidates must use the following plan and tips to pass the SSC CGL Tier-I exam:
Knowing how the Exam is set up
To know about the test pattern is a vital tip for ssc cgl preparation. Tier I of the SSC CGL will have four 50-point sections: Numerical ability, English language, Reasoning, and General Studies. Each section takes 2 hours to finish. Here is how the SSC CGL Tier-I exam is put together. The parts of the SSC CGL Tier-I Exam that are asked about are:
General  Studies and Reasoning.

General Awareness.

Quantitative Aptitude.

How to Understand English.
To Know the Syllabus 
To do well on the Tier-I Exam, you need to know enough about the test outline and how the test is set up.

To pass the SSC CGL exam, you must analyse, prepare well, and start practising with a great

ssc cgl preparation strategy

based on the most up-to-date SSC CGL study plan and the latest syllabus.

Always make plans based on what you can and can't do.

You can decide how much time you want to spend on each subject and how many hours you want to study each day.

Always make short plans and preparations for SSC CGL so that things go quickly as planned.
What counts is your result, not the number of attempts
You may find many candidates who have come across and been preparing to crack the SSC CGL exam for many years but still find it difficult to clear it in a single attempt. 

Excessive study time is hardly productive and keeps them from moving at the necessary pace for

ssc cgl exam preparation.

    
Get back to basics
Try to learn everything from the very beginning and in great detail.

Once you understand these ideas, you can start using shortcuts or different ways to figure things out.
Make notes for studying
Making study notes is a very important part of preparing for an exam.

Aspirants can figure out what is most important and what is less important if they take good notes.
Here are some good things about taking notes:
It helps you focus and pay attention better.

It helps people learn better.

It helps people understand and remember what they are learning.

It helps you get better at keeping things in order.

Taking notes is a good idea when getting ready.

With the help of study notes, aspirants can go over the more difficult topics again.
Revision
Reviewing what you've already learned is very important.

Revising is a key part of a smart study method on

how to prepare for ssc cgl

and will help you get good grades. 

Reading something only once is rarely enough to remember everything.

Candidates can use the study notes to go over important information and notes again. 

This will help you get ready for when you have to study.

The revision clears up any questions and improves accuracy and speed, giving you more confidence and better results at SSC CGL Exams.
Prioritization of  the Topics
This is one of the main things that make your performance in the SSC CGL Exams stand out.

You can prepare for the topics where you are lagging and those topics that catch your attention. 

You can keep solving a maximum number of questions, revising the concepts and working out more on the Quizzes, Mock tests, Test Series and practice tests.
Mock Tests To Your Rescue
Many people take mock tests or the real exam and find that while studying, they had completely forgotten the skills they need to answer the most questions in the least amount of time. 

This is true for those who have just started studying and those who have been studying for a long time. 

The only things that competitive exams look for are speed and accuracy. 

Take as many Mock Tests as possible in the 15 to 20 days before your

ssc cgl preparation exams
Time Management
You must know how to use your time well to do well on a competitive exam.

By doing a lot of exercises and question papers, you can figure out when you need to do things.

Make plans for every day and every week.

Candidates should start studying long before the exam date to have time to finish their Syllabus.

When students practise, they should set a timer to see how long they have to answer each question. 

This is a key part of

ssc cgl preparation strategy

for the SSC CGL exam.

After you finish a subject, take a short break, so you don't get bored. 

Make time to work out, meditate, and do yoga regularly to keep your body healthy and get a good night's sleep.

Time management is a big part of every exam, so students need to learn how to use their time better.

Disciplined Time Management is a well-known action that is rarely used.

If not all of your time, try to spend at least 75–85 per cent of your day learning, practising, and answering questions.

At the end of the day, success isn't as easy as you might think. You can get into your dream job by having a glance at the

jobs alert

your aspiring jobs.

It needs the right amount of action that works.
Study from one source
Use only one source of information, so you don't get lost.

Every teacher has their own ideas for how to teach a subject.

Everyone will give you different advice, confusing you when it's time for the exam. 

Don't get confused, and instead, focus on just one.
How to Study for the SSC CGL Tier 1 Exam in 2022?
Trying to answer as many SSC CGL question papers from last year as possible is the best way for

ssc cgl preparation strategy.

Work on General Intelligence, Reasoning, General Awareness, reasoning questions, Quantitative Aptitude, and English Section.

Topics that score well include puzzles, questions with pictures, analogies, coding and decoding, and series.

If you start studying hard for this section two months before the exam, you won't need more than 10 minutes to finish it.

You can use the saved time to do the Quantitative Aptitude section math.

There is a section with more questions about general knowledge than current events.

So, focus more on static GK and simultaneously keep up with current events.

Start with questions about percentages, profit and loss, speed, distance, time, boats and streams, ratios and proportions, figuring out what the numbers mean, and so on.

Note down all of the concepts, suggestions, shortcuts, and equations.

In Quantitative Aptitude, shortcuts can save you a lot of time.

Focus on simplifying age problems, interests, percentages, ratios, and proportions that are easy to understand.

The three most important things to know for the

ssc cgl exam preparation

Tier 1 English test are vocabulary, grammar, and understanding.

If you practise often, you will be able to hit the target much better in a few weeks.

Nonverbal reasoning tasks, like putting together pictures, counting numbers, etc., require you to use your visual imagination.

The fastest way to get them done is to do them repeatedly.

You should try to get at least 15 to 20 questions right in 20 minutes when you practise.

On the day of the exam, you should move on to the next question if you have trouble answering one or if it takes you a long time to answer one.

Do not waste your valuable time trying to answer just one question.

If you have time, come back and answer that question.
Conclusion
I hope we've gone over almost all the most important ways to know how to prepare for ssc cgl mains. Candidates who want to study well for the SSC CGL exams or any other competitive exams can go through the preparation tips. Most people will do well on the SSC CGL exam if they keep a good attitude and stick to their schedule.