UGC-NET is the exam that Indian universities and colleges conduct to decide who is qualified to be an Assistant professor or get a Junior Research Fellowship. The University Grants Commission hires the National Testing Agency to run the exam.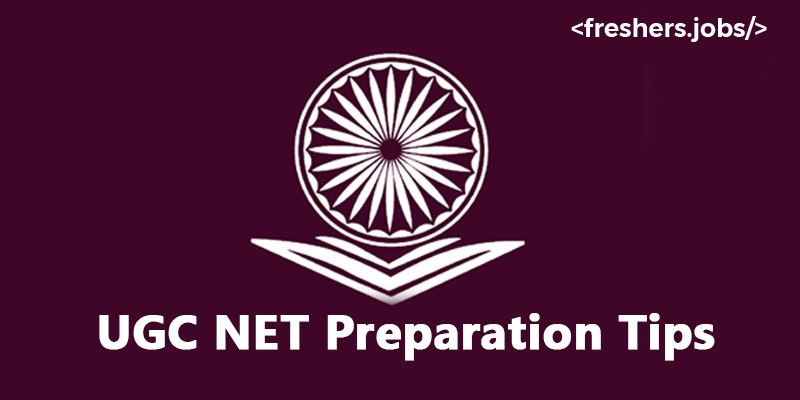 Checking NET preparation is essential for one of the most difficult exams in the country. The candidate who wants to do well on the exam should have a good study plan and get many jobs alert to land a dream job. Essential tips for the UGC NET exam preparation plan are choosing the right books and learning materials based on the UGC NET syllabus, following the UGC NET Exam Pattern, and giving enough time to each part.
To do well on the UGC NET exam, people studying for it should solve the paper from the previous year. Before looking for the UGC NET, they must also know the course outline. Follow the UGC NET Preparation Tips and the ideas below if you want to do well on this government exam.
Let us check out the preparation tips for NET Exams
Know about the Exam pattern
Before taking any competitive exams, every candidate must have a clear picture of the Exam Pattern, which is essential

UGC NET preparation

. 

The first initial step is to overlook the entire exam pattern of the NET Exams. 

If you know the exam pattern before, you can easily prepare and see the type of questions that will mainly appear for the exams, thus helping you elevate your confidence during exams.
Be thorough about the Syllabus
When you know all about the exam pattern and the questions asked that will be asked, there is another NET exams preparation to get familiar with the exact Syllabus and get to know the paper scheme of the NET exam. The candidates must know and cover the entire NET Syllabus, as there are two papers. As stated above, the NET exam has two papers. We shall see the overview of the subjects included in the NET exams.
Research Aptitude, Teaching Aptitude, Communication, Reasoning, Reading Comprehension, Information & Communication Technology, and Maths.
Make a Planned Structure TimeTable
This is the essential preparation strategy and tip for candidates who wish to perform well in the NET exams. 

The Time Table planning is vital for any competitive exams. 

It must include the proper preparation strategy that provides study, revision, and relaxation time. 

You can set your priorities and your daily targets or tasks accordingly. 

You can also prepare a timetable which can be followed quickly and completed as

UGC NET exam preparation.
Always focus on your Weaknesses
You can determine the areas you are weak and the areas for improvement. 

You can read and get all the fundamental ideas before working out in your more vulnerable areas.

You need to spend less time on the basics of the areas you are familiar with. 

Instead, you can spend more time practising the weaker sections. 

How to crack UGC NET

? Practice more and more previous year's question papers which are supposed to be excellent

preparation tips

for thriving and getting strong in the weaker sections. 

This will broaden your correct perspective and assists you in acquiring the proper time management and structure. 
NET Preparation by Reading Important Books
Always study or read at least one textbook for each topic covered in the Syllabus. 

The candidates can always learn from the various authored books.

You can also refer to other books from famous publishers to prepare for the NET Exams.
Preparation of Short Notes
Once you have made it a point to read essential books to cover the Syllabus, another part of

NET preparation

is to take quick notes on various topics. 

These brief notes allow you to review the full curriculum before the exam quickly. 

In your short notes, emphasise the crucial ideas that will be important during the revision process.
Revise, Revise and Revise
This might be one of the less-discussed words for preparing for NET exams. 

The concepts and topics that applicants have studied must be reviewed daily or weekly. 

While practising, you can try memorising the essential facts and equations as

UGC NET preparation tips

.

You can even understand the subject's core concepts and revise on those topics. 

Try to concentrate more on weaker ideas and sections to do well in the exams.
Always practice on Mock Papers
One essential preparation tip for NET that every candidate can follow is the habit of practising the mock papers. 

Practising Mock papers will surely make you gain confidence, and you will know how to solve problems. 

By solving the mock papers, you can work out the time management to feel easier while appearing for the main NET Exams. 

You can regularly take the Mock papers to perform in the exam. 

You can even increase your preparation rate by analysing the section score.
Recognise your areas of strength and weakness
Do you work better at night or during the day? Recognise and steadily enhance your levels of concentration. 

Recognise your weak points and improve on them, as well as your strong points, so that you can incorporate them into your

UGC NET preparation

. 

You must also decide which areas of the Syllabus demand the most attention and which may be done in less time. 

As a result, you can plan your entire chart based on the time required for each topic. 

You will definitely get a significant amount of time.
Self-assessment
The next stage is to keep to the daily schedule you have developed. 

Try to stay as close to your strategy as possible. 

You will be required to review yourself after completing each minor project. Examine your weekly goal and your progress. 

It is okay if you were not able to complete the task. 

Remember to examine your flaws and why you could not complete the assignment. 

Determine that specific point and work on it.
Subject Wise preparation tips for NET
Aptitude Instruction
This section is dedicated to child psychology. This section's only goal is to examine prospective teachers' comprehension of the nature of their profession, namely teaching and the support system for learners. Although the questions are of the MCQ variety, the answers can sometimes be challenging. This section contains several major themes, including NET preparation.
Concepts and objectives for teaching
Differences in learner characteristics between adolescent and adult learners

Teachers, learners, support material, and institutions are all factors that influence education.

Methods of instruction: Teacher-centered vs learner-centred strategies having methods of  Offline vs Online.

Teachers' Support System.

Elements and evaluation types are included in evaluation systems.
Mathematical Reasoning and Aptitude 
The unit is a little challenging as UGC NET exam preparation, and attentively reading the questions is the key to scoring well in this unit. Look for techniques for answering various types of queries. Important themes include
Number and letter sequences, codes, and relationships

Fraction, Time & Distance, Ratio & Proportion, Percentage, Profit and Loss, Interest, and so forth.
Logical Reasoning
This part is lengthy, and you will find at least 6-7 questions. As with the prior unit, attentive reading and comprehension of questions are essential for success here. Important themes include
Forms and structure, Formal and Informal, Language Uses, Connotations and Denotations, and Classical.

Assessing and distinguishing between deductive and inductive reasoning as

NET exams preparation.

Venn diagrams and analogies
Interpretation of Data
The unit is straightforward but time-consuming. As you may be aware, determining the correlation between the data is a specific calculation. There are no shortcuts to resolving DI. Remember that each question is worth the same points, so don't spend time on any single one.
You are competing not just with other candidates but also with time. This unit's major themes include:
Data sources, acquisition, and classification

Data Qualitative and Quantitative

Visual representation

Governance and Data
Conclusion
To wrap up, I hope this blog has prepared on NET preparation. Review the preparation tips to engage yourself every minute in preparing for the competitive exams. The Right preparation, hard work, dedication and time management can lead you to top up in the NET Exams and achieve the top scores to become a successful Assistant professor and a great guide tracker to the students. Begin your preparation right today for freshers jobs.