Here, we will start with CDS (Combined Defence Services). As the name suggests, this exam is conducted to hire people for the Indian Military Academy (Army), the Officers Training Academy (Army), the Indian Naval Academy (Navy), and the Indian Air Force Academy (Air Force). This exam is similar to the NDA exam, but the difference is that the NDA exam is taken before graduation, and the CDS exam is taken after graduation with the right preparation for cds.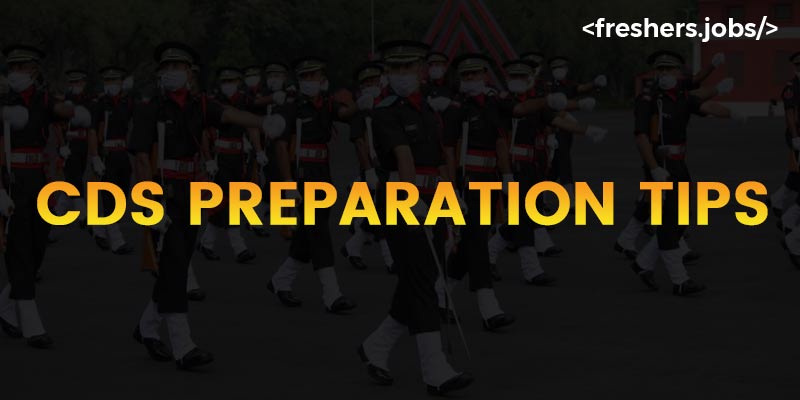 The Union Public Service Commission (UPSC) holds the Combined Defence Services (CDS) exam twice a year to find candidates for the Indian Military Academy, the Indian Naval Academy, Officers Training Academy, and the Indian Air Force Academy. The Exam is held in February and November. The CDS selection process has two steps: a written exam and an interview with the SSB. If you want to take the exam, you must know how to prepare. So, we will talk about how to prepare for the CDS exam in this blog.
Who can take up the CDS Exam?
Eligibility criteria include a candidate's nationality, level of education, age, marital status, and physical condition. Those who want to take the CDS Exam must have already graduated or taken the final Exam for their degree. Also, different qualifications have different minimum and maximum ages to get into the freshers jobs and academies.
Preparation Tips for CDS
Know the syllabus and how the exam will be set up as cds exam preparation.
If you want to pass the CDS exam, you should look over the exam syllabus and exam format.

This will let you know what kinds of questions will be on the Exam.

While studying for the CDS, you should list all the topics you know a lot about and those you don't know much about.

Focus on your weaker areas and fix them as soon as possible to avoid confusion.
Time Management
The time factor is very important, and you can finish the paper in the time allotted. Candidates must know how to manage their time well. Here are more details about time management:
People who want to take the CDS should start at least 3 to 6 months before the Exam.

How to crack cds exam

? Follow a regular study schedule to finish everything on the list as.

Make a schedule and set aside 6–8 hours to get ready.

Take the time to keep track of your weekly changes as well.

Take short breaks in between.

Get more confident by staying updated on what's happening worldwide about the jobs opening,

jobs alert

and many other events.
Do practise exams from the past year's papers
Solving Mock exams and exam papers from the past will help you with CDS

preparation tips

.

This may not allow you to know the types of questions better, but it will also give you ideas for how to answer them right away as

cds preparation strategy

.

Remember that practice makes perfect, so keep doing the practice exams so that the final Exam will be easy.
Revision
Revision is the most important thing to do if you want to pass an exam. The daily review will help you remember everything you have learned and make it easy for you to pass the exam.

As candidates study daily, they should write down small notes about essential topics.

You should keep these notes nearby so you can look at them when you need to.

Also, once the syllabus is done, you should do one last review and give exams on it before the Exam.

This will help you figure out

how to crack cds

?
CDS Preparation Tips Subject Wise
Tips for General Knowledge
One of the important sections of the CDS exams is "General Awareness." This section needs you to be able to think critically, so you need to be selective if you want to pass it. If you know the facts, it's easy to figure out what the correct answers are. Follow the preparation tips below as you get ready for the CDS exam.
Candidates need to make it a daily habit to read the newspaper.

As you read the newspaper, write down the essential points and review them often.

Try to

preparation for cds

for two hours on this part. You can watch news channels, discovery channels, documentaries, and more.

Read newspapers, journals, and magazines to keep up with what is happening in your country and worldwide.

The candidates should read the NCERT books to understand history, government, and geography better.

You can brush up on your knowledge and exam your knowledge span by taking mock and practice exams online.

Look at the exam questions from previous years to get an idea of how the questions will be asked.
Tips for the English Section of the CDS Exam
In the English section, you will be examed on how well you can use correct grammar rules and vocabulary.

If you study well, this part should be easy to pass. Here is the plan for getting ready for the CDS English Language exam:

Every day, read a good English newspaper, a book, a magazine, or a blog on a different website.

Build up your word power. Write down the new words you learn daily and try to use them in everyday conversation as a part of

cds exam preparation

.

Learn more about English grammar by making sure you understand the basics.

Do grammar exercises to learn how to apply and use the rules.

To get the best score on the Reading Comprehension exam, candidates should read anything they can get their hands on. This will help them read faster.

Read a passage with comprehension in mind so you can find the answers quickly.

Go to practise and mock exams and try some old questions.

Some questions are asked every year, so this will give you a better idea of what the English Paper will be like.
Math tips for getting ready for the CDS
The math part of the CDS exam is very long and must make up for cds exam preparation. This section will examine how smart you are, how fast you think, and how clear your ideas are, so you should practise a lot. To get through this section, you should know the basics well and be able to solve problems well. Here are a few easy ways to make sure your ideas are strong enough to do well in this part:
First, the candidates must ensure they know each subject's basics well.

Before the exam, try answering as many questions as possible on each topic.

Use NCERT questions to build your knowledge and get a feel for how the questions are set up.

Make a list of all the formulas and review them daily to help you remember them as

preparation for cds

.

By answering questions, you can improve your accuracy and speed. Regular practice is the only way to get better at this.

Ensure you do not wait until the last minute to finish important and challenging chapters like Trigonometry, Quadratic Equations, or Geometry.

To finish quickly, you should practise short tricks for formulas and questions.
Tips for CDS Exam at the Last Minute
Candidates who want to get ahead of the other candidates can use a few last-minute tips and tricks.
By the end of your preparation, you will know everything there is to know about the topics, mock exams, and sessions to clear up your doubts.

So, with a few tips here and there, you should think about how to do well on the exam.

You can use these tips to help you prepare well. You can also refer to the

NDA preparation tips

.

Write down short, helpful notes. The notes should be quick and act as a summary of what has been learned from the research.

Even though the last few weeks can be stressful, all you need is to stay calm and organised.

Prepare the papers before the exam day and double-check them before you leave the house.

Time management is essential as

cds preparation tips

.

The CDS exam is timed, and each question takes about a minute to answer. Knowledge is necessary, and so is how quickly you can use it.

For each wrong answer, you lose a mark on the Exam. Because of this, you shouldn't guess.

Always prefer to have a structured plan of preparation to improve your chances of being chosen.

You don't need to worry about the exam because you have studied well and will know how to answer every question.
Conclusion
After reading this article preparation for cds, you should know how to study for the UPSC CDS Exam, pass it with flying colours, and get government jobs. If you are still unsure how to prepare and what steps to take. The few weeks before an exam are very important because that's when you should review everything you have learned without trying to stuff. So come up with a good plan for preparing to increase your chances of being chosen and become a proud Soldier.