People looking for work usually apply for more than one job, and you have probably done the same. We send out multiple jobs alert and job applications to increase our chances of getting hired. Then we wait for a call and an invitation to an interview.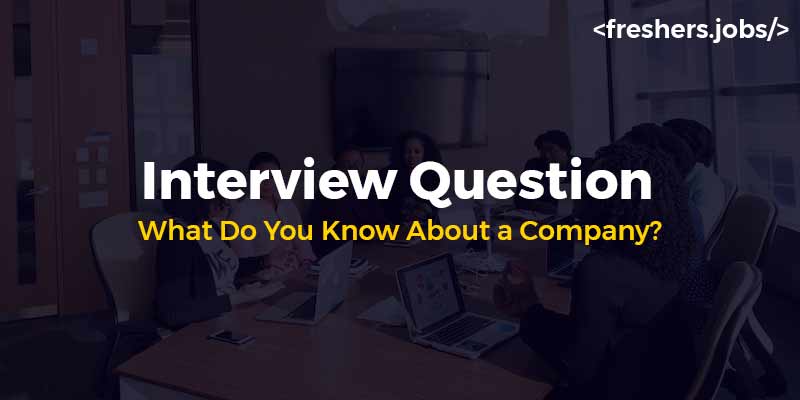 Many experienced and qualified people apply for the same job, making it hard for the hiring manager to find the best person. Recruiters often ask questions on job change and how to answer why this company may not be directly related to the job duties but can help them evaluate candidates on other essential factors.
On the job market, skilled and qualified people often compete for the same position. So, you must do the best way to make your application stand out. Prepare for common interview questions you will likely be asked during the hiring process. This will help you show that you are the best person for the job.
This blog will discuss why employers often ask, "What do you know about this company?" during an interview. We will also give preparation tips on answering this question.
Why do companies ask, "What do you know about us?"
Recruiters use interview questions that seem simple or unimportant to find out about a candidate's qualifications and personality.
Follow these steps to answer this question what do you know about this company? In a way that will make your interviewer happy:
You can conduct research
Learning about the company before you go in for an interview. The information you find can help you answer their questions by keeping their values, industry, and history in mind. It can also help you decide what questions to ask them during the interview, and most importantly, it can help you determine if you think you would be a good fit for the company. You can read on How To Research About A Company Before Joining.
If you look at the company's website, social media pages, and any news stories about its products or services, you should be able to find out more about the company and the people it wants to recruit.
To find out how interested you are in the job.
Recruiters can be picky when many people are looking for jobs. In addition to experienced and skilled candidates, they may often prefer professionals who apply for an appointment with a purpose and are passionate about the organisation. How well you know about company in interview show how much you want to work there.
To figure out how professional you are
If a candidate has a well-thought answer to this kind of question, it is likely that they are ambitious and want to move up in their career. These characteristics are often signed that a candidate knows how to act professionally. To answer such a question well, you need to do more research, which can also show that you can find more information on your own when you run into problems at work.
Prepare essential points to talk about
Next, you can list the most important things about the company you want to highlight in your answer. Review the information answer for why this company you have gathered from your research, and pay special attention to any big successes or new products coming out soon. With what you know, you can also ask and answer more interview questions, learn how to be confident in an interview, and about the role and challenges the company faces.
Talk about the company's chances to grow
Focus on discussing what the company has to offer, important company milestones, and parts of the company's vision and values that fit your professional and personal goals. You can explain how your ideas can help the organisation make more money or get its name out there. This can show that you have come up with ways to help the organisation grow.
Focus on how interested and excited you are
During the interview, you should show the hiring manager that you are interested in the job. You can show that you understand this by knowing a lot about company in interview and how your skills can help it reach its goals. You must be honest about how excited you are to join the organisation.
Why Is It So Important To Ask "What Do You Know About Our Company?"
Before we get to the sample, we need to discuss why hiring recruiters might ask these questions during the interview.
They want to know if you like the company or not.

They want to know if you did any research on the company before coming to the interview for

what do you know about this company

.

The way you answer this question shows how professional you are.

The way you answer tells them how you work.

If you research the company, they will see that you are responsible and can do your daily job while keeping an eye on the details.

It shows how ready you are for something new to happen in your life.
What should you think about before coming up with an answer to this question?
This question will be asked in different ways, how to answer why this company such as why our company is, why you want to work for our organisation, what you know about the way our organisation works, do you know what our company's primary goal is, etc. There are many ways to ask this question, and there are also many ways to answer it. Still, all the recruiters looking to hire want to know specifics about the company.
However, the market is now very competitive, so you need to get prepare for that. The world has gone digital, and even small businesses have their websites. There is a lot of information out there, and recruiters expect you to have looked at their website before coming in for an interview. You never really know what the hiring managers are looking for or what they want to hear from you. Here are the Easy Ways To Get A Job As A Fresher. So, before you go to an interview, you should learn a lot about what the company wants to achieve.
Here are a few things you should think about while answering
Your answer about what do you know about this company should show that you know a lot about the company and want to work there. You can give some information about the business. These facts should focus on the company's primary goal and purpose. Blog websites are a great way to find this information and learn more about the company.
In today's digital world, there are several websites where ex-employers can rate companies and say what they liked and did not like about them. Also, make sure you have checked out these websites. This research can help you in the interview. If the hiring manager asks you why you want to work for the company, you can say that you looked into it and learned how much they value their employees.
If you are interviewing for a job in the sales or marketing department, you can also tell them how you will work to increase sales. You can also find out where the company's main office is, who its parent company is, who else owns shares in the company, where its stores are, etc.
If you mention this in your answer, it automatically improves your chances of being chosen because, aside from knowing the subject, not many candidates will talk about the company's shareholders, stores, etc.
Make sure you did not cram your answer, and when you answer, show that you care about the company and how it works. If you have not thought about what you are going to say but know something about the company, you can always ask the recruiter to repeat the question so you can figure out what you are going to say.
Conclusion
I hope you are clear about the blog regarding the interview question. What do you know about our company? Some things will be more important to you than others, but they are vital if you wish to be very happy at your job. Always go with your first thoughts and think about how to answer why this company. Research and prepare well for the freshers jobs in the company you are applying to. Always make the right choice, leading to a bright and prosperous future.