JEE Advanced is an entrance exam conducted by one of the IITs (Indian Institutes of Technology) under the government of India for admission into undergraduate engineering programs in all IITs and some other prestigious engineering colleges in India.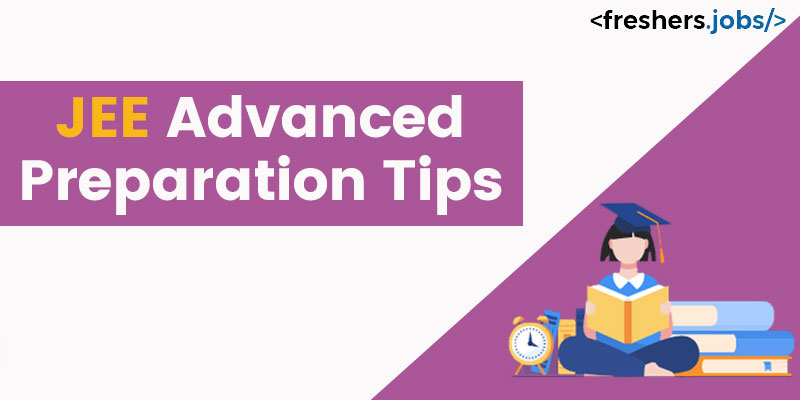 JEE Advanced is one of India's most challenging engineering admission tests, and passing takes a lot of effort and study. Aspiring candidates should have a well-thought-out, tactical preparation tips approach because there are only limited opportunities and fierce competition.
How to prepare for JEE Advanced? Creating a successful study plan requires thoroughly understanding the exam format, curriculum, and marking scheme. Candidates should concentrate on enhancing their problem-solving and time-management skills in addition to theoretical ideas.
Numerous strategies may be used to aid candidates in getting ready for the JEE Advanced exam, including creating a study timetable, finishing the previous year's papers, taking practice exams, reviewing often, and getting advice from teachers or mentors with experience.
Also, it's essential to maintain a positive outlook, stay motivated, and prioritise one's physical and emotional well-being throughout the preparation phase. To pass JEE Advanced and succeed in the engineering sector requires careful planning and continuous effort to land your dream freshers jobs.
Eligibility criteria for JEE Advanced Exams
To be eligible for JEE Advanced, a candidate must first qualify for JEE Main exam, which is also an entrance exam for engineering programs in India and how to crack JEE advanced. The eligibility criteria to take up JEE Advanced exam are as follows:
Age Limit: The candidate should follow the age limit. However, there is a relaxation of 5 years for SC, ST, and PwD candidates.
Several attempts: A candidate can appear for JEE Advanced only twice in consecutive years.
Qualifying Examination: The candidate should have passed the 10+2 or equivalent examination with Physics, Chemistry, and Mathematics as compulsory subjects.
Preparation tips for JEE Advanced 
Preparation for the JEE Advanced examination takes significant commitment, effort, and strategic planning. Here are some comprehensive JEE Advanced preparation tips:
Structured Study Plan: To develop an efficient study plan, applicants must thoroughly understand the JEE Advanced syllabus and exam format. The curriculum consists of Physics, Chemistry, and Mathematics themes, and applicants should concentrate on the essential concepts and formulas.
Applicants should construct a study regimen that considers their skills and weaknesses. They should devote appropriate time to each subject and periodically engage in review. It is essential to adhere to the schedule and avoid procrastination.
Solve Past Year Papers: Doing prior year papers is a fantastic technique for learning the JEE Advanced exam format, difficulty level, and question types. Applicants should attempt to answer as many questions as feasible and identify their errors.
Take Mock Tests: Mock tests are a fantastic method for evaluating one's level of JEE Advanced tips and identifying problem areas. Applicants should often take mock exams and examine their performance to address their inadequacies.
Concentrate on Problem-Solving Skills: The JEE Advanced examination requires solid problem-solving skills. Applicants should practice tackling complex problems and cultivate their logical and analytical abilities. Also, they should acquire time management techniques to complete the exam within the allotted period.
Revising: Revision is essential for recalling the learnt concepts and equations. Applicants should revise frequently and jot down summaries of essential points to assist them in identifying key concepts.
Get Guidance: Students can seek counsel from experienced instructors or mentors to solve their questions and obtain helpful JEE Advanced test advice.
Maintain Optimism and Motivation: Maintaining optimism and motivation throughout preparation is essential. To alleviate stress and maintain concentration, candidates should pause, engage in physical activities, and keep a healthy lifestyle as per JEE advanced preparation tips.
With the right preparation, you can look for freshers jobs in Chennai for many job opportunities after completing the JEE Advanced exams.
Tips and strategies for preparing for the JEE Advanced from toppers
The students preparing for JEE since Class 9 or Class 11 need a lot of motivation because it is hard to keep the same level of focus for so long. Here are some tips and strategies from people who did well on the JEE Advanced:
Stay calm. If you aspire to succeed on the JEE Advanced test, try not to stress out too much. Everyone can do well on the exam if they work hard, are sure of themselves, and have a good study plan.
Avoid Distractions: Smartphones and social media make it easy to get sidetracked while studying. So, when it's time to learn, keep your gadgets out of the way so you don't get too distracted.
Note Important Points While Studying: If you encounter an important point, mark it to clarify questions or remember it when reviewing as JEE advanced preparation.
Study for Short Periods: Instead of studying too long, working smart and studying briefly is better. This would help people understand the ideas better and keep them from getting stressed out and tired.
Use Your Time and Don't Make Silly Mistakes: When taking the JEE Advanced exam, candidates shouldn't be in a hurry because it can cause them to make silly mistakes. Instead, read through the paper once before starting to answer the questions so you can come up with a plan.
Good Books For Preparation: Top scorers say that studying from the best books is essential to learn different ways to answer a question and fully understand the concepts, which helps you get the best job opportunities in the long run.
Subject wise Preparation tips for JEE Advanced
There are three parts to the JEE Advanced exam: physics, chemistry, and math. Here are some tips for preparing for the JEE Advanced test by subject:
Tips for studying physics
Make sure you fully understand the basic ideas and formulas.

Focus on getting better at solving problems by doing math problems.

Do old papers and practice tests to get a feel for how the test will be set up.

Keep a list of formulas on hand and review it often as a part of

JEE advanced tips

.

Attention to essential topics like mechanics, electromagnetism, optics, and modern physics.

Visualisation can help you understand challenging ideas.
Tips for studying chemistry
Pay attention to learning the basic ideas and rules of Chemistry.

Remember important chemical reactions, equations, and formulas.

Regularly work on math problems and chemical calculations.

Do old papers and practice tests to get a feel for how the test will be set up.

Pay attention to important topics like Organic Chemistry, Inorganic Chemistry, and Physical Chemistry.

Draw the structures of organic compounds to get better at seeing them.
Advice for studying math
Learn the basic ideas and formulas inside and out as

JEE advanced preparation tips

.

Try to solve different problems and get used to other formulas.

Do old papers and practice tests to get a feel for how the test will be set up.

Pay attention to essential things like Algebra, Calculus, and Geometry.

To better manage time, try to solve complicated problems in a set amount of time.

Write down important ideas and formulas in short notes and review them often.
As more of the IT jobs prefer to have engineering candidates. Henceforth, you can check out recent openings from Wipro jobs for freshers.
In addition to the tips for each subject, it is important to keep a regular study schedule, take breaks, and keep a good attitude. It's also important to get help from teachers or mentors with a lot of experience to clear up questions and learn valuable tips for the JEE Advanced exam.
Last-minute Preparation tips for JEE Advanced exams
How to prepare for JEE Advanced? Preparing for the JEE Advanced exam at the last minute can be challenging, but here are some tips that can help candidates make the most of the time they have left:
Focus on Important Topics: Test takers should pay more attention to the essential topics and formulas that count more on the test. They should put the best-known issues at the top of the list and study them well.
Solve Previous Year Papers and Mock Tests: Solving previous year papers, and mock tests can help candidates determine their strengths and weaknesses and see how well they are prepared. They can also learn about the test format and how to manage their time.
Review Short Notes: Candidates should review their short notes while studying. They should focus on the essential ideas and formulas and often check them to remember them.
Take Care of Your Health: During the last few days of getting ready, your physical and mental health is essential. Candidates should get enough sleep, eat well, and work out often. Also, they should take breaks and do things that help them calm down and relax.
Don't Learn Anything New: It's not a good idea to learn anything new in the last few days of studying. Instead, candidates should focus on reviewing what they already know and being sure of what they are good at.
Avoid cramming the night before the test. Cramming the night before the test can make you more stressed and anxious, hurting your performance. It's best to take breaks and not try to cram at the last minute.
Stay Positive and Confident: During the last few days of JEE advanced preparation, staying positive and confident is important. Candidates should try not to think negatively and instead focus on their strengths and what they have done well.
Conclusion
I hope you are clear from the blog about the JEE Advanced preparation tips. To pass the JEE Advanced exam, you must work hard, be dedicated, and plan. Tips for each subject can help candidates plan their study time well, and tips for the last few days can help them make the most of their time. Candidates can improve their chances of doing well on the JEE Advanced exam and reach their goals with high freshers salary jobs if they plan and act correctly to JEE advanced tips.