Karnataka Common Entrance Test(KCET) is a highly regarded entrance examination conducted by the Karnataka Examinations Authority (KEA) for admission into various undergraduate programs in Karnataka, India. KCET is a gateway to renowned engineering, medical, dental, pharmacy, and agricultural courses offered by numerous colleges and institutions across Karnataka.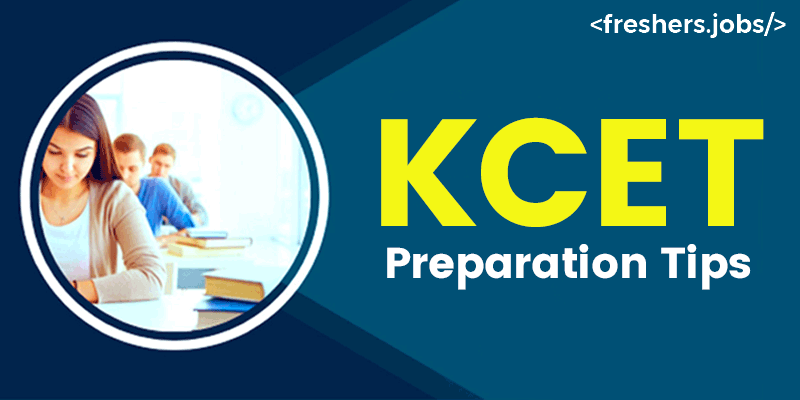 This competitive exam requires thorough KCET preparation and a comprehensive understanding of the subjects covered. Aspiring students must dedicate their time and effort towards mastering the curriculum, practising sample papers, and familiarising themselves with the exam pattern to excel in the KCET and secure a seat in their desired program. This blog will discuss the details of the KCET exam and provide valuable insights into effective preparation tips and strategies to help students succeed in this crucial milestone of their academic journey.
Eligibility criteria for the KCET exam
To be eligible for the KCET exam, candidates must fulfil specific criteria set by the Karnataka Examinations Authority (KEA). The eligibility criteria for KCET are as follows:
Nationality: Candidates must be Indian citizens. Non-Resident Indians (NRIs), Overseas Citizens of India (OCIs), Persons of Indian Origin (PIOs), and foreign nationals are also eligible for specific reserved seats.
Domicile: Candidates must have a Karnataka domicile. They should have studied and completed their qualifying examination from an educational institution in Karnataka to apply for KCET with KCET preparation tips. However, candidates who have studied in Jammu & Kashmir for at least 7 years and whose parents work in the government or defence services are also eligible.
Age Limit: No age limit exists to apply for the KCET exam. However, candidates must satisfy the age criteria specified by the institutions offering the courses.
Educational Qualification: Candidates should have passed the 10+2 or equivalent examination with a minimum aggregate of 45% (40% for SC/ST/OBC candidates) in the qualifying examination. The qualifying examination should have included Physics and Mathematics as compulsory subjects and Chemistry/Biotechnology/Biology/Electronics/Computer Science as optional subjects.
Compulsory Subject Requirements: Candidates should have studied and cleared English subjects in the qualifying examination. For more learning of English, you can know how to Improve Your English Pronunciation Greatly.
Essential Preparation Tips for KCET
How to crack KCET? Preparing for the Karnataka Common Entrance Test (KCET) requires dedication, discipline, and a systematic approach. With proper planning and practical strategies, you can maximise your chances of success in this highly competitive exam. Here are some in-depth preparation tips to help you excel in the KCET and secure a seat in your desired program:
Understand the Syllabus: The first step in exam preparation is thoroughly understanding the syllabus. Familiarise yourself with the subjects and topics covered in the KCET exam. The KCET syllabus usually includes Physics, Chemistry, Mathematics, and Biology. Obtain a detailed syllabus from the official website or a reliable source and create a study plan accordingly.
Create a Study Plan: Develop a comprehensive study plan covering all the syllabus topics. Divide your study time wisely, allocating more time to complex subjects or topics. Set daily, weekly, and monthly study targets to ensure consistent progress. However, remember to include regular breaks to relax and rejuvenate your mind.
Gather Study Material: Collect the necessary study material, including textbooks, reference books, previous years' question papers, and online learning resources as KCET exam preparation. Refer to recommended books and study guides to supplement your understanding of the subjects. Use online platforms, educational websites, and mobile applications that offer practice quizzes, mock tests, and study materials designed explicitly for KCET preparation.
Master the Fundamentals: Building a strong foundation in the fundamental concepts of each subject is crucial for success in KCET. Focus on understanding the core principles, theories, and formulas. Practice numerical problems and work on developing problem-solving techniques. Clear your doubts immediately and seek help from teachers, peers, or online forums whenever needed.
Solve Previous Years Question Papers: To Solve previous years question papers is an excellent way to familiarise yourself with the exam pattern, question types, and time management. Analyse the patterns and trends in the questions asked in previous years and identify the essential topics that are frequently covered. This will help you prioritise your preparation and gain confidence to tackle the exam.
Practice Mock Tests: Take regular mock tests to simulate the exam environment and assess your performance. Mock tests help you improve your time management skills, enhance speed and accuracy, and identify further improvement areas. Analyse your performance after each mock test, identify your strengths and weaknesses, and adjust your study plan accordingly.
Focus on Time Management: Time management is very important in the KCET exam as you must answer many questions within a limited time frame. Practice solving questions within the prescribed time limit to improve your speed. Additionally, learn to prioritise questions based on their difficulty level and allocate time accordingly. Save time on a single question, as it may hamper your progress.
Take Regular Breaks and Stay Healthy: Remember to take regular breaks during study sessions for KCET preparation. Breaks help in refreshing your mind and retaining information better. Exercise in physical activities, exercise, or relaxation techniques to reduce and relieve stress and maintain a healthy balance. Sleep enough to keep your mind sharp and focused during your study sessions.
Stay Updated with Current Affairs: The KCET exam may include questions on current affairs, especially in the General Knowledge section. Stay updated with the latest news, national and international events, government policies, scientific advancements, and important dates. Read newspapers, magazines, and online news portals to stay informed and enhance your general knowledge.
Seek Guidance and Support: If you encounter difficulties in any subject or topic, seek guidance from teachers, mentors, or subject experts. Join coaching classes, study groups, or online forums where you can interact with fellow aspirants and clarify your doubts. Engage in discussions and share knowledge to enhance your understanding of various concepts. After completing the KCET exam with a high ranking, here are the Best Engineering Courses for a Rewarding Career And Salary.
Subject-wise preparation tips for the KCET exam
Subject-wise preparation is crucial for success in the KCET exam. Here are some subject-specific preparation tips  and how to crack KCET to help you effectively tackle each section:
Physics
Understand the concepts: Focus on understanding physics's fundamental principles, laws, and theories. Pay attention to mechanics, thermodynamics, optics, electricity, and magnetism.
Develop problem-solving skills: Practice solving numerical problems regularly to improve your problem-solving abilities. Work on understanding the application of formulas and concepts in different scenarios.
Master diagrams and graphs: Physics often involves interpreting diagrams and graphs. Practice analysing and interpreting graphical representations of physical phenomena.
Memorise essential formulas: Create a list of important formulas and revise them regularly. Please familiarise yourself with their applications to solve problems efficiently.
Chemistry
Categories topics: Divide chemistry into three major sections: Organic, Inorganic, and Physical Chemistry. Allocate time for each section based on your strengths and weaknesses as KCET preparation tips.
Understand reaction mechanisms: Organic Chemistry involves understanding reaction mechanisms, functional groups, and properties. Focus on practising reactions and mechanisms.
Memorise chemical reactions: In Inorganic Chemistry, memorise important reactions, equations, and periodic table trends. Understanding the properties of elements and compounds will be crucial.
Solve numerical problems: Physical Chemistry requires a good grasp of concepts like thermodynamics, kinetics, equilibrium, and atomic structure. Practice solving numerical problems to reinforce your understanding.
After Graduation, you can tap into freshers jobs in Bangalore to land your dream jobs.
Mathematics
Understand concepts and formulas: Mathematics in KCET primarily covers algebra, calculus, coordinate geometry, trigonometry, and statistics. Focus on understanding the concepts and formulas thoroughly.
Practice problem-solving: Mathematics requires practice to develop problem-solving skills. Solve various problems from different difficulty levels to strengthen your problem-solving abilities.
Memorise important theorems and formulas: Make flashcards or a formula sheet to revise and memorise important theorems, identities, and formulas. This will save time during the exam and help you solve problems more efficiently for KCET exam preparation.
Time management: Mathematics can be time-consuming. Practice solving questions within the prescribed time limit to improve speed and accuracy. Implement these tips to get good job opportunities.
Biology
Focus on NCERT textbooks: Refer to the NCERT textbooks for Biology to cover the essential topics. Understand the concepts thoroughly and make notes for quick revision.
Emphasise diagrams and labels: Biology often involves diagrams, labelling, and understanding biological processes. Practice drawing and labelling diagrams to improve your visual understanding.
Memorise key terms and definitions: Biology requires memorising terms, definitions, and biological processes. Use mnemonics, flashcards, and mnemonic techniques to remember important information.
Solve previous years' question papers: Practice solving previous years' questions to familiarise yourself with the question pattern and important topics. Pay attention to topics that are frequently asked in the exam.
As many companies hire engineering freshers into their companies. So you can start applying for Wipro jobs for Freshers.
In conclusion, KCET preparation requires a strategic and focused approach. Understanding the exam syllabus, creating a well-structured study plan, and dedicating time to each subject can enhance your chances of success. Remember to practice solving previous years' question papers, take mock tests, and analyse your performance to identify areas for improvement. Additionally, maintaining a healthy balance by taking regular breaks, staying updated with current affairs, and seeking guidance when needed will contribute to your overall preparation. With determination, consistent effort, and adequate subject-wise preparation, you can confidently face the KCET exam, secure admission into your desired program, and land dream freshers jobs. Best of luck in your KCET journey!