The Common Management Admission Test (CMAT) is a national-level entrance exam recognized by India's National Testing Agency (NTA). CMAT is a gateway for candidates seeking to be admitted to postgraduate management courses, including MBA and PGDM, offered by famous institutes across India. Various AICTE-approved management institutions widely accept the Common Management Admission Test (CMAT).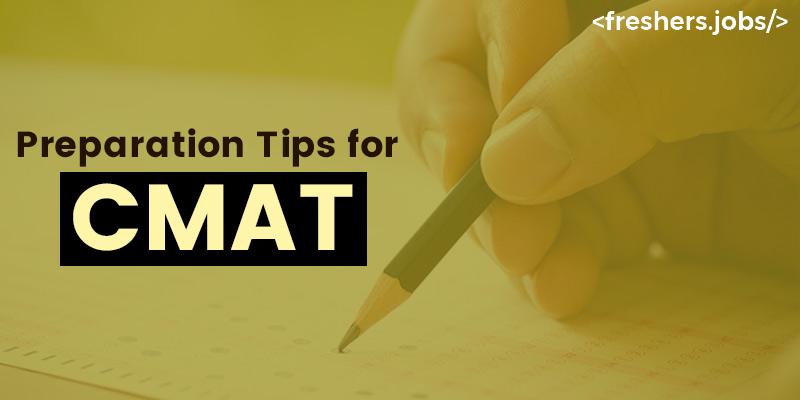 The institutions participating in CMAT include universities, colleges, and autonomous institutions. These institutions use the CMAT score to assess the eligibility of candidates for admission to their postgraduate management programs. The cmat preparation strategy makes it a convenient and efficient exam for management aspirants, as they only need one exam to apply to various institutions. Prepare for the CMAT exams with the right preparation tips and get your dream freshers jobs.
Eligibility Criteria for CMAT
The Common Management Admission Test (CMAT) eligibility criteria are straightforward. Candidates must have a bachelor's degree in any discipline. There is no specific age limit or restriction on the number of attempts. Final-year students of bachelor's degree programs are eligible to apply with a complete degree program and meet all other requirements before the commencement of the admission process.
Each participating institution may have its own specific eligibility requirements, than the general CMAT eligibility criteria. Candidates must carefully review the official notifications and websites of the institutions to ensure they meet all necessary criteria before applying for CMAT.
Preparation tips for the CMAT Exams
While Preparing for the exam, there should be a proper strategic approach and consistent effort. Completing a Master of Business Administration provides various job opportunities. Here are some of the important cat exam tips which will help you with Preparation:
Understanding the Exam Pattern and Syllabus
Analyse and have an in-depth knowledge of the exam structure and syllabus before appearing for the entrance exam. Understand the section, number of questions, time allocation and mark scheme. This will help you plan your preparation accordingly.
Create a Study Plan
Developing a proper study plan is the most important part of exam preparation. This plan should include a realistic estimate of the time you must study for each section. Schedule regular breaks throughout your study sessions to avoid stress.
Gather Study Materials
Gather various study materials when preparing for the Common Management Admission Test (CMAT). This includes textbooks, reference books, and previous year's question papers. The official CMAT study material and mock tests provided by NTA are also valuable resources.
Upon completing your MBA, you should begin applying for TCS jobs for Freshers.
Practice Regularly
Practice is essential for success in the Common Management Admission Test (CMAT). In cmat exam preparation, solving sample papers and taking mock tests regularly can help you to improve your speed, and time management skills. Analyse your performance after each test to identify your weak areas and work on improving them.
Focus on Conceptual Understanding
Develop a strong conceptual understanding of the topics. This helps you tackle questions more confidently and apply concepts in many scenarios.
Improve Time Management
Practice solving the questions within the limited time for each section. Do prioritize and allocate the time based on the question difficulty.
Join Mock Test Series and Coaching
Joining a mock test series or coaching institute can provide guidance, additional practice, expert insights, tips, and strategies to enhance your preparation for the Common Management Admission Test (CMAT).
Mock tests generally help you to identify your strengths and weaknesses in a particular topic and develop a strategy for the exam. Coaching institutes can provide you with access to experienced tutors, study materials, and practice questions.
With the right strategies, you can get into top Business schools and secure excellent job opportunities from freshers jobs in Bangalore.
Stay Positive and Healthy
Maintain a positive mindset throughout the preparation journey. This means believing in yourself and your ability to succeed, even when things get tough. Maintaining physical and mental health is important by getting enough sleep, eating food, and exercising regularly.
Subject-wise Preparation Tips for CMAT Exam
Quantitative Aptitude
Learn basic mathematical concepts and formulas.

Solve more quantitative problems from arithmetic, algebra, geometry, and statistics.

Practice improving speed and accuracy through continuous practice and mental calculation.

Make sure to solve previous year's question papers to clarify the topics.

Focus on data interpretation for

cmat preparation

to practice questions based on tables, graphs, and charts.
Logical Reasoning
Familiarize yourself with different reasoning questions, such as analytical reasoning, critical reasoning, coding-decoding, blood relations, and series completion.

Create a logical approach for identifying patterns and making logical connections to develop your

problem-solving skill

.

Solve puzzles, syllogisms, and other logical reasoning exercises to enhance your logical reasoning skills.

Try to solve case-based questions that improve your decision-making skills.
Language Comprehension
Regularly read newspapers, magazines, and quality articles to improve your reading speed and comprehension. 

Improve your vocabulary by learning new words and their usage in different contexts. You can do this by reading or taking vocabulary quizzes.

The best

cmat preparation strategy

is to practice reading more comprehension passages and answering related questions to practice

time management

. Increase verbal ability by solving para jumbles, sentence completion, and error-analyzing questions. These questions help to test your understanding of grammar, usage, and logic.
General Awareness
Stay updated on current affairs, mainly on business and economic news, national and international events. You can read newspapers, magazines, and online news portals.

Take notes of important events, dates, and facts to revise them regularly. This will help you retain the information and make it easier to recall.

Develop general knowledge by reading yearbooks, current affairs magazines, and online portals. 

Practice with mock tests that are specially designed for general awareness. This will help you understand the question's format and improve speed and accuracy.
I hope this blog provides how to crack cmat exam and valuable guidance for aspiring individuals pursuing a Master of Business Administration from top B-Schools. By preparing diligently for the CMAT exams, students can land their careers in IT jobs and realise their ambitions of becoming successful professionals. A strong work ethic, strategic planning, commitment to personal and professional growth are essential for success in the CMAT. With these qualities, students can develop their skills and build the foundation for a bright future.