PSCs, or Public Service Commissions, are government-administered, highly competitive examinations to recruit candidates for various civil service positions in a particular state or country.  These examinations are among the most prestigious in the country and are designed to assess a candidate's knowledge, reasoning ability, and decision-making, logical thinking skills.  Due to the fierce competition, candidates must thoroughly prepare for the exams to increase their chances of success for freshers jobs.  This blog will discuss the numerous aspects of PSC examinations and provide PSC preparation strategies.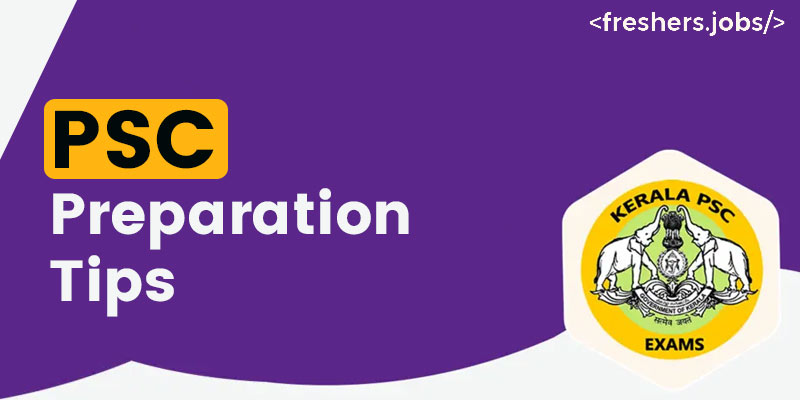 Eligibility criteria for PSC exams
The eligibility criteria for PSC exams vary depending on the country or state government where the exam is conducted.  However, some general eligibility criteria are common for most PSC exams.
Educational Qualification: Candidates must have completed a degree in bachelor's from any stream from a recognized and authorized university or institution.  Some exams may have specific educational requirements, such as a law, engineering, or medicine degree.
Age Limit: Candidates must meet the minimum and maximum age requirements the conducting authority sets.  The minimum age limit is usually 21 years, while the maximum limit varies between 30 and 40 years.  Age relaxations are provided for certain categories, such as SC/ST, OBC, and physically challenged candidates.
Nationality: The Candidates must be citizens of the country where the exam is conducted.  In some cases, candidates from other countries may also be eligible to apply.
Let us see the preparation tips for the PSC exams
How to prepare for PSC exam? Getting ready for a test from the Public Service Commission (PSC) can be a difficult job.  These tests are tough, requiring dedication and commitment to do well.  But anyone can pass these tests and reach their goals if they take the right steps.  This blog will discuss preparation tips and strategies to help you prepare for a PSC exam.
Understand the Exam Pattern
The first step for preparing for any exam is understanding the exam pattern.  The PSC exam pattern usually consists of (MCQs) covering various subjects such as General Knowledge, English, Mathematics, Reasoning, and Current Affairs.  It is very important to understand the weightage of each section and focus your preparation accordingly.  Ensure you know the exam format, time limits, and marking scheme.
Create a Study Plan
Once you understand the exam pattern, create a plan that suits your schedule and study habits and know how to crack PSC exam in first attempt.  Set aside some specific time for each subject, and cover everything on the schedule.  Studying regularly and revising the topics you have already covered is important. Freshers can look for Top High-Paying Government Careers in India
Study Material
One of the key factors in your preparation is the study material.  Make sure you choose the right books and study material that cover the entire syllabus and are relevant to the exam.  There are a lot of online learning tools that offer study guides and practice tests to help you get ready for the test.
Mock Tests and Practice Papers
Taking mock tests and solving practice papers is essential to PSC exam preparation.  This helps you assess your strengths and weaknesses and improve your performance.  Mock tests also help you get familiar with the exam format and time limits.  You can take online mock tests or purchase books with practice papers to prepare for the exam.
Time Management
Knowing how to manage your time well is important when studying for a PSC test.  Divide your time wisely and ensure you spend enough time on each subject. Avoid procrastination and distractions, and focus on your study plan.  It is also important to take breaks between study sessions to avoid burnout.
As freshers, you can be confident about new jobs and start applying for jobs from freshers jobs in Hyderabad.
Stay Updated with Current Affairs
On the PSC exam, the part on current affairs is essential.  You should always know what's happening by reading newspapers, watching news programs, and visiting online news sites.  Write down important news and events and look over them often.
Stay Motivated
How to prepare for PSC exam? Preparing for a PSC test can take a long time and be tiring.  It's important to keep yourself going and keep your mind on your goal to get the best job opportunites.  Surround yourself with good people and ask family and friends for help.  Reward yourself when you reach important goals, and enjoy your achievements.
Take Care of Your Health
Your health is important when preparing for a PSC exam.  Ensure you get sufficient rest, eat well, and work out often.  Avoid stress and anxiety by practicing yoga or meditation.  Taking care of your physical and mental health will help you stay focused and motivated.
How to Prepare for the Mains Exam
Those who pass the Prelims exam by PSC preparation the minimum cut-off mark can take the Mains test. The questions are at the level of an Honors degree and are about describing things.  There is no way to get a lower score on the Mains test.  You can take the test in either English or Kannada, depending on what you choose when you fill out your application.
The preparation should start with a review of basic ideas and a focus on the writers' most important definitions.

Keeping notes with all diagrams, examples, explanations, and key points is very important.

The notes you take should be short and cover all the important points.  This will save you time.

All of the knowledge about a subject should come from one place.

Use books with words that are easy to understand.

Solve past years and sample question papers.

Take practice tests often and look at how you did

how to prepare for PCS exam

.  This will show you how fast and how much you are growing.

Reviewing old ideas after certain amounts of time have passed.
Develop your Essential New Skills To Learn to Advance Your Career
Last Minute Tips for PSC
The PSC test has a fair amount of competition.  Aspirants should know how to handle their time well to improve their accuracy in the allotted time.  This will help them keep their positions.  For example, if candidates can't answer a question after two tries, they must skip it.  Not worth spending more time on.

The candidates should pay more attention to how they talk.  The candidates must also improve their

language skills

during

PSC exam preparation

.

You should check the names of the people in charge of big projects and research organisations at the state and national levels. 

Pay close attention to the events by the Women's empowerment department, the social justice department, etc.

Before you take the test, you should know everything there is to know about the negative score.  All candidates are told to take their time when completing the choices to reduce the points they lose.  

You don't have to fill out the choices quickly.

Don't take too long to write down the right answers.
Freshers can start applying for the latest jobs from Tech Mahindra jobs for freshers.
Conclusion
I hope you are clear from the blog about PSC preparation tips. Cracking a PSC exam requires proper planning, dedication, and a systematic approach.  Understanding the exam pattern, creating a study plan, choosing the right study material, practising mock tests, managing time effectively, staying updated with current affairs, staying motivated, and taking care of your health are some of the key tips and strategies that can help you prepare for a PSC exam.
It is important to note that success in a PSC exam is not just about academic knowledge but also about having a positive attitude, effective communication skills, and the ability to think critically.  Therefore, it is essential to work on these skills along with your preparation.
Lastly, remembering how to prepare for PSC exam preparation is key, but do not forget to take breaks, relax, and enjoy the process.  You can crack a PSC exam and achieve your goals to earn high salaries with hard work and dedication.  Best of luck