Vellore Institute of Technology Engineering Entrance Exam, The common entrance exam for admission to VIT Vellore, VIT Chennai, VIT Bhopal, and VIT Andhra Pradesh is called the Vellore Institute of Technology Engineering Entrance Examination (VITEEE). The exam is held to offer candidates admission to B.Tech programmes at the various campuses of VIT University. Candidates who plan to take the VITEEE should review the VITEEE preparation tips beforehand.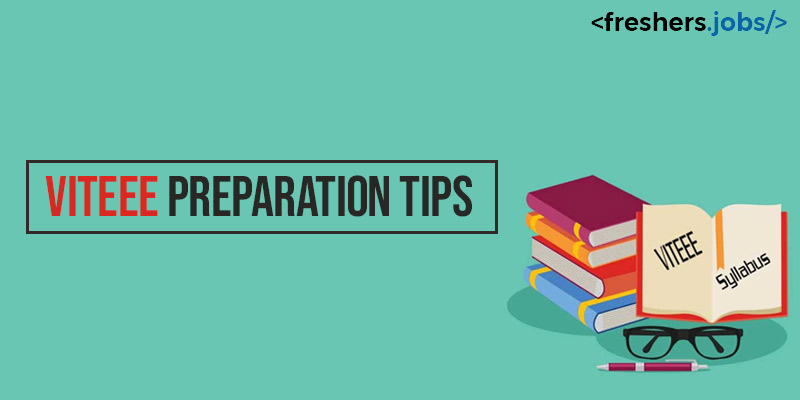 Eligibility Criteria
Only applicants who meet all requirements will be permitted to submit a VITEEE application and participate in the admissions process. Candidates must have obtained a minimum of 60% overall in Physics, Chemistry, and Mathematics/Biology in the +2/Intermediate test in order to be eligible for the VITEEE.
For the B.Tech programme, the candidate must receive a minimum cumulative grade of 60% in PCM/PCB. The requirements that candidates must meet in order to be eligible for the entrance exam, such as nationality, qualifying exam, age, qualifying exam marks, required subjects, etc., are listed in the VITEEE eligibility criteria. They are therefore advised to review the eligibility requirements before submitting a VITEEE application. Recent graduates can know the Career Opportunities for Graduates in B.Tech Computer Science.
Let us see some of the preparation tips for the VITEEE Exams
How to crack VITEEE? Candidates can read the post to get a few VITEEE preparation tips that will help them plan their study time effectively and get the best exam results. The following advice is provided for the candidate's consideration.
Regular Writing Notes
Candidates are recommended to develop the practice of taking quick notes on any ideas or subjects that they find difficult. This will allow the applicants to review their regular messages whenever they like. This will also help applicants remember the concepts they struggle with. Students must review and retain the material prior to the exam if they hope to perform well. You can do this by taking brief notes. Reviewing them the day before the test to help you remember what you studied can increase your confidence when taking it.
Create a Good Timetable
After examining the VITEEE syllabus and exam structure, applicants should create a schedule for their preparation. The plan should be created based on the applicant's choices and should allocate time slots throughout the day so that they can study a range of topics and units. To keep the study process from growing tediously, applicants should make sure to regularly vary subjects and topics in their daily schedule. By creating a suitable timetable for themselves, applicants can enhance their VITEEE exam preparation and raise their chances of passing the entrance exam. The candidates can find enormous job opportunities from freshers jobs in Chennai.
Taking Practise Exams
Mock tests are the most straightforward method for assessing performance and locating problem areas. It is essential to take mock exams because studying and practising by themselves won't help you comprehend the exam environment.
The VITEEE sample papers include essential information regarding the test structure, scoring methodology, question kinds, topic weighting, and much more. By taking as many practice exams as you can, you can speed up your processing while also improving your efficacy.
Understand the Syllabus
Candidates are advised to familiarise themselves with the official VITEEE syllabus as VITEEE preparation tips. By becoming familiar with the syllabus, students will be able to decide which subjects, units, and topics need to be studied for the entrance exam. This will make it possible for the applicants to organise their study time and determine how much content has to be covered in order to succeed on the test. If the candidates are aware of the curriculum beforehand, they will be better equipped to psychologically prepare themselves for the amount of studying necessary to get a good score for admission.
Review is Essential
Candidates should get into the practice of revising. They will have a lower probability of forgetting any subject, idea, or formula if they review what they previously learned. Candidates should allot just a few minutes every day for revision. The candidates will also be able to pinpoint their areas of weakness and take the necessary actions to strengthen them in order to perform well on the admission exam. With the right preparation, you can land into top high-Paying government careers in India.
To know the Subject-Wise Preparation
We hope that you have a better understanding of the Exam's structure and subject matter. The courses are board-level and cannot be completed in a single day without thorough planning and consideration of the strategy that should be taken for each subject. We are providing you with how to crack VIT entrance exam and recommendations to help you get ready for the Exam's Mathematics and general ability sections.
VITEEE Preparation Tips for Mathematics
To revise the class 10,11,12th Mathematics syllabus. Have a prepared sheet with all mathematical formulas, which is always handy for you. Always make up your mind to work out the previous year's papers and try those questions. Make sure to prepare some sample papers and a series of tests very often to get accurate answers. Try to solve the maximum number of mathematical problems to increase your speed in solving the issues. A single problem can be solved in various ways in the universal discipline of mathematics. Try to get the shortest method to solve the problem and get an accurate answer because of the time constraint.
Remain Active and Healthy
In addition to studying and getting ready for the exam, the candidates need to take care of their physical and emotional health as VITEEE exam tips. There is a strong possibility that nothing positive will occur if the candidates take the exam while they are not in excellent health. It is crucial that they get enough sleep and consume a healthy diet while preparing a result. Candidates should engage in extracurricular activities in addition to their normal education to keep their minds sharp.
VITEEE Study Advice: Guidance for the Exam
Candidates should keep in mind the following exam advice for the VITEEE.
Spend as little time as possible on the VITEEE questions that are tough for you. 

Remember that you must obtain the minimum necessary score. Give the enquiries that you are most familiar with some thought.

Use the elimination processes to eliminate any answers that you are positive are false.

Try as many questions as you can because there are no failing grades in the VITEEE.

Please bear in mind that some questions may be challenging before choosing an answer.

You need to study hard and have a solid plan if you want to succeed on the test with the right

tips to crack VITEEE

.

Avoid wasting time by attempting to answer any questions that are difficult for you. 

You must meet both the sectional and overall cut-offs, which is a requirement.

If a section is difficult, only attempt as many questions as are necessary to pass it.

Some exams could be exceedingly challenging. We advise you to read them entirely before responding.

Avoid taking any shortcuts you are unsure of throughout the exam.
As freshers, you can develop by learning the Top Courses To Get High-Paying IT Jobs In India.
Have the Right Confidence and Attitude
For every undertaking you start, Attitude is essential.

Your Attitude can significantly impact you when preparing for the VITEEE or taking other competitive exams.

An optimistic viewpoint can boost your self-assurance in general and prevent you from wishing to minimise yourself.

If you have a negative attitude, it will bring down your confidence and cause you to think you can't do the job.

Many problems will arise if you have a negative mindset.

As soon as you start to think positively, you can feel and display creativity as

VITEEE preparation

.

You will be more receptive to innovative theories and concepts if you are in the right frame of mind.
VITEEE Exam Last-Minute Tips
In your final days, don't try to fix the great difficulties. 

Work on example questions and exam papers from prior years to practice.

To keep your mind active and bright, consume a healthy diet and obtain at least 8 hours of sleep each night.

Read over the quick notes you made during

VITEEE exam preparation.

To help you avoid any delays, arrive at the exam locations the day before the Exam with the required documentation.

You should be aware that the VITEEE Exam involves a negative marking system. 

Utilise your exam time wisely. 

Spend less time trying to predict the results and begin with the more straightforward possibilities.
You may be sure that the article will assist you in achieving your objective for the VITEEE Exam, and with that, you now know how to prepare for the Exam. Have you excelled in the VITEEE exam? Then, you can look out for the jobs alert on this page. All you need is a better book or a coaching session where you can better prepare for the interview if you want to ace the VITEEE exams. Enhance all facets of your VITEEE preparation. All striving people should put in a lot of effort and never give up on achieving their goals for freshers jobs.