Graduating from college is an exciting time for students. Some college graduates may get an entry-level job, but getting a job right after graduation is only sometimes necessary. What to do after graduation? You can do many things after your graduate, and knowing what they are can help you figure out what to do next. This blog gives you a few ideas for what to do after graduating college.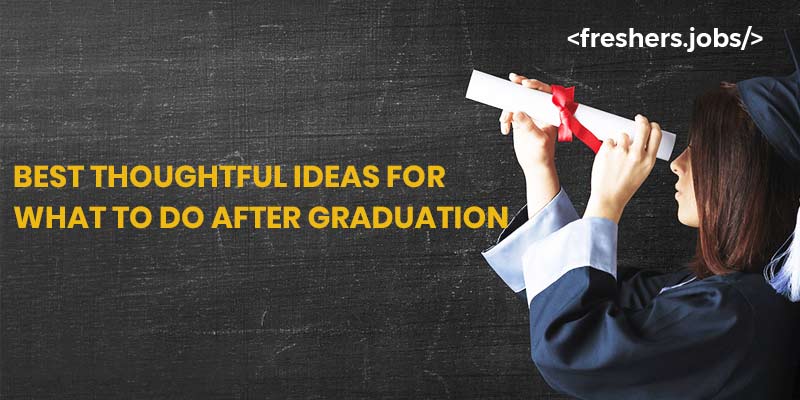 Related: How to get a job as a fresher from freshers jobs in Chennai.
The best part of being a student is getting your university degree and being recognised. After a lot of hard work, it is finally time to celebrate, but you should also think about what to do next. Graduation is an exciting time, and finishing college may feel like a relief at first. However, your newfound freedom can be scary for you to figure out what to do after graduation. But there are many worthwhile things to do after you graduate, and we are here to show you some of them. 
What are your post-college options?
What to do after degree? College graduates have a lot of options. Some graduates are ready to get jobs, while others want to give back to their communities by volunteering. Most graduates move away from college, sometimes back home, sometimes to a new place, and sometimes even to another country. Think carefully about your options and passions and choose a path after college that will help your career and interests.
Now we shall discuss the different ideas for what to do after graduation.
Related: How to set goals and Achieve Them.
Spend a little time at home
After college, going home is a great way to get your thoughts together, look for jobs, and think about your options in a comfortable, low-cost setting. Use your time at home to connect with other graduates and local businesses in your field and to update your CV. You could also use some of the time to relax and recharge on thinking after graduation what can i do.
Related: Interview Tips for Freshers 
Take a course at the graduate level
When you finish your bachelor's degree, you still need to finish school. Taking a relevant postgraduate course will help you learn more about your field than you could as an undergraduate. This may make you more marketable to employers and increase your earning potential. If you want to work in a university, getting a post-grad may be a good idea since many students earn their PhD after graduation.
 Read: Top Courses To Get High-Paying IT Jobs In India from freshers jobs in Hyderabad.
Help out with research
Many universities hire recent college graduates to help with private or academic research. A research assistant's main job is to help a research fellow or research team by collecting, analysing, and figuring out what the data mean. What to do after a degree? Becoming a research assistant is a great way to get hands-on experience or prepare for a career in applied research universities. Contact your university or former professors to let them know you are interested and find out if there are any jobs alert for recent graduates.
Read: Top High-Paying Government Careers in India
Take a gap year
After years of studying, taking time off to travel can be a much-needed break. A gap year can be fun and helpful in many ways. Graduates who take gap years can use that time to learn more about other cultures, improve skills like communication and adaptability, learn a new language, or get work experience.
Taking a gap year is also a good strategy to keep your resume standing out from other applicants.
Read: Best skills to Include in a resume
Related: How to Greatly Improve Your English Pronunciation
Find a place to work
What should I do after graduation? An internship is always the best way to get experience and a possible future career after college. Even though internships usually pay less than full-time jobs, they can lead to a better resume, letters of recommendation, the chance to get paid, and even a full-time job after the internship is over. Consider looking for internships before you graduate since it can be difficult to get a job.
Read: How to write a Resume for Internship.
Do a job out of what you love
Use the skills you learned in college, like how to communicate, work hard, manage your time, and think creatively, to invest in your passion and make it your job. If you love fitness, you could get the proper certifications and look for a gym hiring trainers. If art is your passion, you can sell your work online.
Related: Essential New Skills To Learn to Advance Your Career
Gain volunteering experience
Volunteering is a great way to improve your resume and stand out from other graduates. Volunteering can also help you build skills like communication, empathy, time management, and adaptability that you can use in different situations. What to do after graduation ? Volunteering could also lead to a paid position with the organisation or a full-time job elsewhere. Giving back to your community can also be a good thing to do.
Related: Easy Steps on How to be Confident in an Interview
Find work for the summer
If you love doing something like sailing or farming that only happens during certain times of the year, you should set up a schedule of seasonal jobs so you can do what you love and get more work experience. If you love nature similarly, you might spend the summer planting trees.
Teach English overseas
Many countries want people who speak English as their first language to move there and teach English to both adults and kids. You can think of this option as after graduation what can I do. Many places that hire teachers don't ask for a degree in education or teaching experience. Still, the job market can be challenging, so having a degree in English, modern languages, linguistics, or education may help you get a job as a teacher. Each country has different teacher requirements, so you will have to do a lot of research to look out to find what you will have to apply. 
Read: IELTS Preparation tips
Related: Effective-ways-to-enhance-your-verbal-communication-skills
Work for your university
Many colleges and universities hire former students to work in departments like admissions, development, and academic advising. Suppose you loved studying at your university and are passionate about higher education. In that case, you could network while you are there or talk to the administrative team to see if there are any jobs for graduates. You can also check with your teachers to see if they need help.
Do a job-training programme
What to do after graduation? People usually think of apprenticeships as being for jobs, but there are apprentices in many fields. In contrast to an internship, an apprenticeship programme gives you more responsibility and problems to solve in the real world. Apprentices work with more experienced worker who helps them learn the skills they need to do the job well.
Start a business of your own
If you intend to start your own business and have a good idea, now might be a good time. Even though it will be challenging, a well-thought-out plan, a well-built website, and a strong work ethic could help you start your own business. There are many resources online for those who want to start a business of their own, like government website. Think about what should i do after graduation.
Related: Entrepreneur Skills
Change where you live
People who just finished college are in an excellent position to move to a new place. Many companies expect applicants to move away when looking for a job, and some may even pay for the move. Moving to a new place may also give you a much-needed change of scenery or more job opportunities if you move to a bigger city.
Related: Freshers you can look out for dream jobs from freshers jobs in Bangalore.
Pursue a part-time job you are passionate about
What to do after degree? If you don't feel ready for a 9-to-5 job, consider taking some time after college to find a job in a field you are interested in. You can work in an area you are interested in and make money simultaneously. For example, you could work at a bookshop, a yoga studio, or a flower shop. This could also lead to longer-term opportunities.
Related: What Are BPO Jobs and How to prepare for BPO Jobs?
Find a graduate job
After college, an entry-level job may be the best choice for many people who want to gain skills and experience. Try to look for companies that offer career advancement so that you can move up to a permanent position once the placement is over. Even if the job doesn't turn into a permanent position or you decide you are not a good fit for the company, it can still help you build your CV and gain experience.
Related: A Complete Guide on how to get a Bank Job
Conclusion
I hope this blog on what to do after graduation is clear to you. There is always confusion in every mind about what can be done effectively after graduation. Here is the solution for all your confusion at freshers jobs. You can find plenty of opportunites and streams where you can divert yourself to excel. Make your life meaningful by choosing the right career or profession after graduation.