The Food Corporation of India organises the FCI Exam, a national-level competitive examination, to choose qualified individuals for manager positions in several departments of government. The Food Corporation of India ensures the nation's food supply is safe. The FCI exam offers a wide range of topics. Thus, there is tight competition. Only a tiny percentage of applicants who complete the FCI Exam each year are chosen. Therefore, it is crucial to have the best study techniques to pass the FCI Exam. We have included all the information you need about FCI preparation.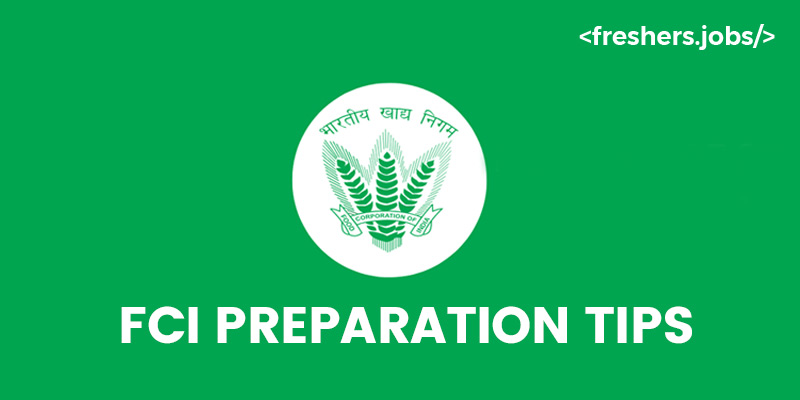 Related: Look out for freshers jobs in Hyderabad for more recent job openings in your desired stream.
Who can take up the FCI Exam?
You need an intelligent strategy and a precision focus if you want to do such with flying colours.

The exam will be beneficial, and there is no question about that. Consequently, it is crucial to understand each concept fully.

Most applicants believe that taking the FCI exam without coaching is possible.

You may master the subject on your own.

You need solid strategy and

preparation tips

to guarantee your place on the list and beat the competition.
Let us see how we crack the FCI Exams with the proper preparation and Planning. Here are the FCI exam preparation tips.
FCI Exam Preparation: Key Points to keep in Mind
You can design a personalised study schedule based on your requirements. Remember that all the important subjects covered in the FCI Syllabus should be included.

Read English-language newspapers every day. There are two advantages to this. Every day, you will learn more about current affairs.

Both the size of your vocabulary and reading speed will increase simultaneously.

The sectional time limits or the time duration for each section should be double- or triple-checked, and you should adjust your time management techniques accordingly.

You will need to become an expert time manager if you want to pass practically any exam with the best

FCI preparation strategy.

You must manage your time both while studying and while taking the exam.

Try to take practice exams and review your errors, so you don't repeat them.
Read: Effective-ways-to-enhance-your-verbal-communication-skills
FCI Exam English Preparation Guidance
Check out The Times of India or another respected English publication. Your general English skill development will benefit from it. It won't bore you, and reading it could help you sharpen your general awareness skills.

You will also better understand the kinds of questions (such as simple or complex questions) asked in English.

For vocabulary-based courses like Antonyms and Synonyms, revision is important. Work your way from A to Z, starting with the letter A. Read the words you come across, then edit them.

Practice all of the questions from the prior year's FCI Exams as

FCI preparation tips

. You will become accustomed to the volume of questions that are frequently posed.

Take online practice tests before the actual test. The most crucial element of your success is time management, which mock tests will help you with.
Related: IELTS preparation tips
Tips for Preparing for the FCI Exam with Numerical Aptitude
It's essential to complete the problems on quadratic equations, simplification, and approximation before moving on to the number series if you want to do well on the FCI Phase 1 Numerical Aptitude Section.

It's common knowledge that Data Interpretation difficulties demand a lot of calculations. Make it a point to practise at least five sets per day.

Your DI score on the test will be higher the faster you can calculate.

You will better understand the kinds of questions (such as simple or complex ones) asked in numerical aptitude, and your computation speed will also increase for

FCI exam tips.
Tips for Preparing for the FCI Exam for Reasoning section
The reasoning section of the exam is one of the most challenging because it takes so much time. However, if you put in enough effort, you can ace this section. Divide the questions into two categories. For your convenience, the chapters and subjects from each of the two groups are listed below:
How to crack FCI?
Time-consuming Subjects: Circular and linear seating configurations, machine input and output, puzzles (such as floor puzzles), etc.

(Relatively) Syllogisms, blood relationships, data sufficiency, inequalities, direction sense, etc., are examples of simple topics.

You will better understand the types of problems or the various formats of the 40–50% reasoning questions.
Read: Freshers jobs in Pune for recent jobs alert.
FCI Preparation by Reading Important Books
Always make a habit of studying or reading at least one textbook for each topic that is covered in the FCI Syllabus.

The candidates can always learn from the best books for FCI.

You can also refer to other books from famous publishers to prepare for the FCI Exams.
Taking notes is the best thing to do
The best way for a candidate to improve at the

FCI preparation

strategy and remember what they have studied is to write notes or make notes while learning.

The candidates can take down points, write down all the points in a notepad, or write down the essential topics in a diary.

This will be an excellent way to study, and all of the vital facts will be close at hand.

Make sure you write down the points clearly so that you can understand them during the test and avoid getting confused.
Focus on the essential things or sections
A candidate can be good at one thing but better at something else.

Candidates should try not to get down because of it. Plan to work harder on the parts that could be better to improve them.

You can get help from your trainers or friends for help if you need help understanding something.

For better preparation for the FCI exam, you can always work through old question papers to find your weaker areas and spend more time on them as

FCI preparation strategy.

This method allows you to get through the more complex parts and feel more confident.
Related: Top High-Paying Government Careers in India
Exam Strategies
Having plans can make it easier to get ready. Before studying, candidates should make a plan for the exam as per

FCI exam preparation.

It will help them get through the whole curriculum and give each topic simultaneously.

The first thing candidates should remember is the timetable.

This will remind them to spend a little time on each question.
Revise Regularly
Review is the essential preparation tip as you are preparing hard.

It helps you remember more and get your thoughts for the test.

You train your mind to recognise the questions and answers when you review.

Candidates can review the questions from last year to understand what will be on the exam question paper.

Reviewing helps calm your fears about the test and gives you confidence at the last minute.

It will help you get better at getting ready for the test.
Take breaks often
How to crack FCI

? When studying for the FCI exam, candidates should never be in a hurry.

This is one of the essential things that toppers did to prepare for the FCI.

When candidates rush through the subjects, they need help understanding the more complicated ideas.

Some challenges, like crosswords and puzzles, are a good way for the candidates to relax. Using these ideas, you can take your thoughts back and quickly find solutions.

This is one of the apt ways for exams since it does most of the hard work.

The candidates can take the preparation of FCI exam by making plans, taking breaks, and studying.
Related: Look out for freshers jobs in Chennai for higher freshers salary
Conclusion
To wrap up, I hope this Blog has prepared you for FCI preparation. Review the preparation tips to engage yourself every minute in preparing for the competitive exams. The Right preparation, hard work, dedication and time management can lead you to top up in the FCI Exams and achieve the top scores to become successful and a great guide tracker to the students. Begin your preparation right today for freshers jobs.