A recruiter may enquire about your salary expectations during a freshers jobs interview. Although many interviewers keep this question until the end of the process, some might ask it at the beginning or when it's time to discuss your offer. Being ready for this question is crucial because it can increase your negotiation power. In this blog, we will look at the potential reasons what is ctc, why an employer would pose this question and how to respond with your expected Cost to Company (CTC).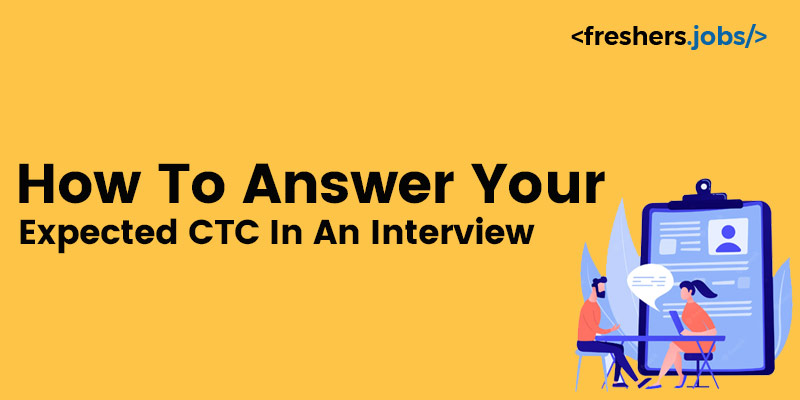 Common HR interview questions that open up a discussion on salary are "What is your current CTC?" and "How much pay are you expecting."
These inquiries help the recruiter determine whether you are aware of your value and whether you can work within their organisation's financial constraints for the position.
When asked, "What is your current CTC?" we frequently struggle with knowing what information to include. We often answer this HR interview question with a little amount of detail or not at all.
Related: Tap to freshers jobs in Chennai to look for dream jobs.
This blog is the one for you if you facing the same confusion on this interview question.
You can sound confident the next time you answer this HR interview question by using the sample responses and advice we have included in this blog for what is ctc salary.
We shall know how to answer your expected CTC in a job Interview
When preparing for an interview, it's wise to learn how to address your expected CTC. You should also consider the company's mission, goals, offerings, and client and employee evaluations. An organisation might choose a candidate over another with comparable credentials and skills if the candidate offers them a favourable CTC expectation.
You can prepare to answer questions about your CTC the same way you would for an interview's technical aspects. Here are some important actions for responding to your expected CTC. Recognise the components of CTC. The CTC represents a company's overall investment in an employee, including financial and non-financial costs.
Read: How to get a job as a fresher.
What is your current CTC? The three main components of CTC are the basic salary, allowances, and deductions. Frequently, basic compensation is only four-hundredths of CTC. Allowances and deductibles may differ depending on the type of business, internal policies, and enterprise size. The placement and size of the organisation can support specific variances in salary patterns, which are often consistent.
Consider the experience, skill level, operational circumstances, risks, travel requirements, advantages, and benefits you might receive from a competing firm. Some agencies publish freshers salary guides and surveys for many roles in many industries for expected ctc for fresher. These can be examined to suggest a theory on present CTC trends.
Recognise the parts of CTC
The total amount a business spends on a worker, including financial and non-financial costs, is known as the CTC. The three main parts of CTC are the base salary, the allowances, and the deductions. Typically, basic pay is at most 40% of CTC. Depending on the type of firm, internal policies, and company size, allowances and deductibles may change. Understanding the various CTC components will enable you to bargain more effectively when facing an interview.
Other allowances and deductibles of CTC are
House rent allowance

Dearness allowance

Medical allowance

Entertainment allowance

Conveyance allowance

Provident fund contributions

Professional tax

Income tax
Examine market trends for salaries
What is your salary expectation for fresher? The location and size of the company may cause some variations in salary trends, which are typically uniform. On job search websites, you can look up current salaries. Consider your potential competitor's experience, skill level, working conditions, risks, travel requirements, and benefits. Some agencies list salary guides and salary surveys for different roles across various industries. To learn more about current CTC trends, do some research on these.
Related: Look out for freshers jobs in Kolkata to get high paid jobs.
List a range of salaries
If a company contacts you for an interview after screening, it suggests they are open to paying you more than your current CTC or matching it. If the subject of expected CTC is raised, provide a range based on your prior salary research and your recent pay that you feel comfortable with. Before stating your expected salary range, consider the allowances, benefits, and other factors added to your take-home pay.
For example, if your research indicates that the typical annual salary for your position is 7 LPA, you can mention higher figures as expected CTC. Alternatively, a range and add 15% to 20% to your current CTC. Saying a range demonstrates your adaptability and desire to continue with the interview. Even if you select a number or a degree from a drop-down list when filling out an online application, you should still include the word "negotiable" in the notes section and know what is ctc.
Read: How To Negotiate Your Salary From Multiple Job Offers
Be prepared with a logical defence
If you mention a possible CTC range, the interviewer might or might not inquire about the basis for the figures. Be ready with a response. You might highlight your qualifications, abilities, and experience to support your expected CTC.
If necessary, avoid the question
What is ctc salary? Before asking about the work, an interviewer may inquire about your expected CTC. You can politely decline by saying that you will respond after learning more about the jobs alert and job position and its duties. If they are prepared to provide the salary range, they can offer the role, and you can also respectfully inquire.
Mention the expected CTC in formal rounds
For entry-level and mid-level jobs, the standard process may require you to undergo three interviews. The hiring process is more involved and formal and involves several interviews for senior and executive positions. It may be perfect for sharing your expected CTC when there is a mutual understanding of your credentials, talents, abilities, and new duties during the second or third round.
Be prepared to negotiate
It's essential to understand your CTC for fresher components so you can bargain effectively. You can haggle for higher base pay. Although the company might need help to afford your salary range or offer many allowances, they might be open to giving you equity. As an alternative to benefits, you might bargain for allowances.
Related: Rules for Negotiating a Job offer
Give an honest and reasonable response
Although you can estimate the CTC amount, avoid overstating or giving irrational numbers. Employers may offer high salaries to entice qualified experts for specific tasks and abilities that are specialised and in great demand. Quote a reasonable amount higher than your present CTC while still fitting the company's budget and the market's compensation trends. If you have high salary expectations, you should also support them with arguments that will persuade an employer that you are someone they should consider hiring and know what is CTC.
General advice for responding to your expected CTC
If you are a new hire or seeking an entry-level position, a recruiter might ask you this question during the first round of the interview. If you are being interviewed for middle- and senior-level roles, the HR manager or a senior manager may ask you this question following the first or second interview round. Although there are no set guidelines for when an interviewer can ask this question, your response should be direct, sincere, and devoid of any opportunity for doubt.
Give a range of salaries and say that you are open to negotiating. Let the interviewer know that you might answer this question in later rounds if you feel it is too soon to share your expectations or you are unsure about a number for CTC means in job.
Read: Common HR Interview Questions
What justifies the interviewer's inquiries about predicted CTC?
This question is typically asked as part of the first screening process by interviewers. Organisations provide recruiters with criteria, such as qualifications, experience, skills, and salary range, to filter and suggest qualified individuals for interviews. Giving a high number may signify that you are too senior for the position or that your standards need to be lowered. Your application might only be considered if your expectations are within the firm's expectations. They might assume you have less experience if you specify a salary below their range.
When the interview moves into the official stages, you may meet senior management and the recruiter. When they ask about your expected CTC, they may be thinking about your application and trying to figure out if your expectations are in line with their budget. When they find a great candidate with very high CTC expectations, companies may pay more than they had planned if they want to hire them.
Related: Freshers jobs in Noida.
Conclusion
I hope you are clear from the blog on the topic of How to answer your expected CTC in a job interview and what is CTC. Salary negotiation is a crucial step in the job process. You can impress your superiors and show them how valuable you are by explaining why you believe you deserve a higher fresher's salary. With so many new abilities at your fingertips, negotiation will become more straightforward and effective the more you use it. You can feel confident, prepared, and ready to earn the money you deserve by using the advice, preparation tips from the above list to answer about the salary expectation.