The National Institute of Fashion Technology conducts an entrance exam called the NIFT. This exam is administered on a national level. Candidates who pass the exam can get into different design programmes. Students who want to learn more about NIFT with good NIFT preparation must pass the NIFT entrance exam. The National Institute of Fashion Technology gives an entrance exam for undergraduate and graduate courses. The courses teach students how to design clothes and other design methodologies. More than 15 NIFT campuses provide courses on fashion design in India.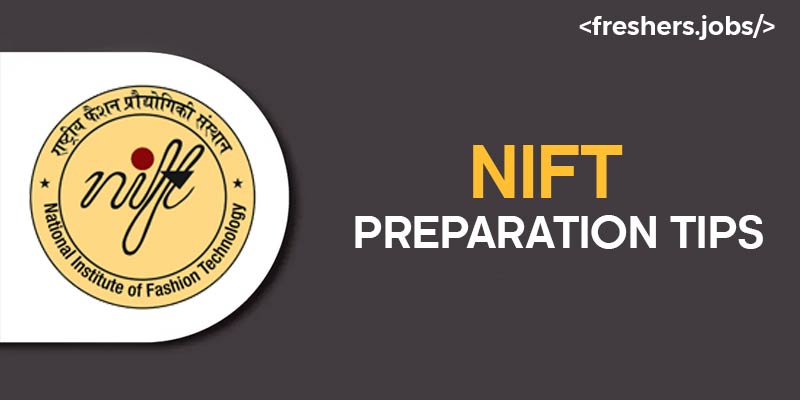 The entrance exam is conducted for undergraduate and graduate programme candidates. Candidates can find out everything there is to know about fashion design courses, which can lead to several different jobs alert.
NIFT fashion designing is a broad term that includes designing clothes, accessories, and shoes, being a personal shopper, being a retail buyer, and designing textiles, among other things. The exam will be given in three parts. The first is the General Ability Test(GAT), a written exam for all five NIFT campus courses. CAT (creative aptitude exam) and GD come next. The aspirants who want to study fashion design at NIFT campuses must pass all exams.
Let us see how to prepare for NIFT entrance exam
The NIFT Exam Preparation Tips will help candidates plan their time and cover everything on the institute's list of requirements. A good study plan is the best way to prepare for the NIFT exam.
One of the essential NIFT Exam Preparation Tips is a clear understanding of the detailed exam pattern and NIFT Exam Syllabus. The plan for preparation helps candidates figure out what they can do to do well on their exams. With the help of the preparation tips, it is possible to do better on exams than the minimum qualifying score and the NIFT exam cut-off. You can read more about preparing for the NIFT exam and doing well on it.
Structure of the Exam
How to prepare for NIFT

? First, the candidates must know what is expected of them in the course. The NIFT exam is divided up into three parts. 

To get into the institute, candidates must take a written exam, including a Creative Ability exam (CAT), a General Ability exam (GAT), and Group Discussion.
Now, let us discuss how to prepare separately for the CAT and GAT exam.
Creative Ability Test (CAT)
The CAT includes Communication Ability and English Comprehension, Case Study, Quantitative Ability, Analytical and Logical Ability, General Knowledge, and Current Affairs. 
The GAT, on the other hand, NIFT exam preparation includes Quantitative Ability, Communication Ability, English Comprehension, Analytical Ability, General Knowledge, and Current Affairs.
Communication Ability & English Comprehension
Candidates should take mock exams often to see how they are doing.

Candidates should use the best books to cover everything on the institute's list.

Candidates should not waste their time and should make good use of their time to prepare.

Studying for short periods with regular breaks is better than looking for long periods without breaks.

Go over each chapter again after you are done with it.
Quantitative Ability
Make a schedule that includes all the important things and is based on how you usually spend your time per

NIFT preparation tips

.

This can make you stay focused on your goals and make the right plans for the exam.

You can draw ideas that come to you in your sketchbook. 

This will help you be more creative and innovative, which will help you do better on your CAT exam.

One must work out at least four times a week and meditate at least 15 minutes a day while getting ready. 

This will keep their mind and body balanced and help them be at their best while preparing.

By doing last year's question paper, candidates can learn short tricks, improve their vocabulary, and better manage their time.
Reading in English
Always make a habit of reading the newspaper when you wake up as

NIFT preparation

. This will not only help you be more creative and come up with new ideas and also help you learn new words.

In addition to knowing how the exam will be set up, candidates should also know what is on the syllabus.

Remembering everything you have learned after only one study session is hard, but reviewing or revising can solve this problem.
Analytical Ability
Work harder on your weaker topics and try to pay more attention to them.

 Know the basics of each subject.

 If you cannot, then you might not be capable of comprehending the more complicated versions.

Candidates can use the exam pattern to plan how they will spend their time and energy during the exam.

Reviewing a topic after studying for a long time can make you feel more stressed, so take a break before checking it.

After finishing a section, look it over again and take notes on it. 
General facts and current events
How to prepare for NIFT entrance exam

? Trying out the question papers from previous years is always a good idea because it helps you in giving ideas of the kinds of questions that could come up on the exam.

Right before the exam, there should be a few days for revising.

Instead, get enough sleep to feel refreshed when you wake up. 

You can walk during study breaks to get fresh air and feel more energised.

It is very much required because it tells you how much time you should spend on a subject.
General Ability Test (GAT)
No rule says you have to study for the CAT and GAT separately. You can check both at the same time. You cannot just forget about one exam while you study for the other.
Both exams include English, general knowledge, math, and communication. To do well on these topics, you must practise them often, so candidates should study them together.
Group Discussion Tips
The most important ways to get ready for a group discussion in NIFT preparation are:
Practice giving clear speeches that are based on facts and data.

Putting together your knowledge base.

Visit the most popular GD themes and past GD topics, and read articles that show different points of view on many other topics regularly to read and learn more as

Group Discussion Tips

.
Interview Advice
You will need more than good grades to do well in this exam. In this case, candidates will be judged on how well they can learn, communicate, stay focused, deal with stress, etc. Candidates will also be asked what they like to do in their free time. So, candidates need to make sure they know about these things. Dont forget to dress up for your interview and talk with confidence. Read the Interview Tips for Freshers so that you can perform well in your interview.
Nift Preparation Tips in Brief
How to prepare for NIFT? The exam for NIFT will be hard to pass. Several people want to get into the fashion industry. So, the rush to get in is taken into account on a larger scale.
Candidates need to be serious and start getting ready early. 

They can start looking for helpful information right away.

Applicants should go to coaching classes if they need to. 

After that, it is essential to prepare by reading the best books. 

Also, candidates should stick to their routines and do what they usually do.

Last, there should be a good balance between studying and taking a break. 

It is best not to stress out about getting ready.
Conclusion
To wrap up, I hope this blog has provided you with the NIFT preparation. Review the preparation tips to engage yourself every minute in preparing for the NIFT exams. The Right practice, hard work, dedication and time management can lead you to top up in the NIFT Exams and achieve the top scores to become a successful fashion Designer and a great guide tracker to the students. Begin your preparation right today for freshers jobs as Fashion Designer.