XAT is one of the most significant entrance tests for top MBA institutions like XLRI, IMT, XIMB, TAPMI, SPJIMR, etc. is the XAT. Xavier Aptitude Test is the complete form of the examination. XLRI, Jamshedpur, administers the exam, which takes place once a year. The candidates can prepare for the XAT exams with the right XAT preparation tips and excel in the XAT exams and get your dream freshers jobs.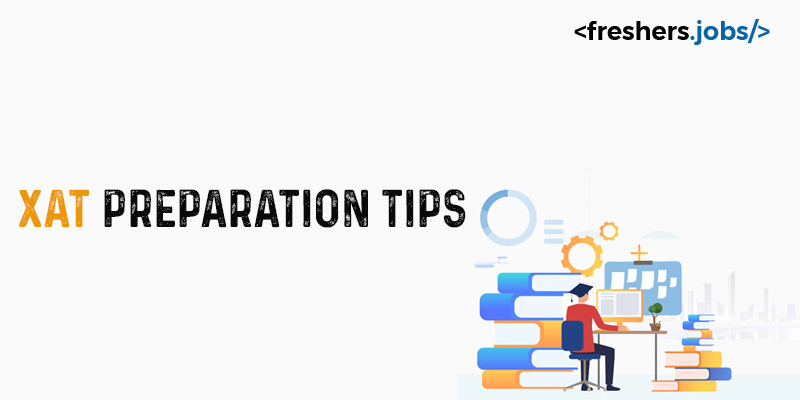 XAT Exam Eligibility criteria
Candidates must hold a three-year bachelor's degree in any discipline from an accredited university to qualify for the XAT.

Filling out a XAT application does not require a minimum overall score. Additionally, there is no maximum age for taking the XAT exam.

Final-year students can also apply if they graduate and furnish the admissions committee with the necessary mark sheets and degree certificates.

Foreign citizens and NRIs may also apply for admission to XLRI with a valid GMAT score and the right

XAT exam preparation

.

Candidates from the reserved category are not given any exceptions by XLRI when completing their XAT application forms.
Related: GMAT Preparation Tips.
Preparation Tips for XAT exams
Things to Keep in Mind
XAT is thought to be more difficult than CAT, CMAT, and SNAP. Therefore, simply studying for the CAT is insufficient to pass the XAT. Students who intend to apply for the XAT should concentrate on preparing for the areas that fit their skills and limitations. Reading through the XAT exam from the prior year would also be very beneficial. Understanding the updated XAT exam pattern and syllabus is the first and most crucial step in exam preparation tips.
Related: You can get into the top Business schools to get wonderful job opportunities from freshers jobs in Hyderabad with the right strategies.
XAT Study Strategy
Preparing for the XAT (3-Month Study Plan)
How to crack XAT? Any exam's final three months can be demanding and stressful. Nevertheless, it is a crucial moment that needs to be used carefully. Students frequently enter a panicked state, which must always be avoided. A well-crafted XAT preparation plan is provided below to help you with your studies:
Month 1 XAT Preparation Plan
Concentrate on finishing at least half of each section's syllabus.

Learn about the most excellent preparatory tools available.

By answering 20 questions from these themes every other day, you may determine your strong and weak points and work on improving them.

After the month, complete a XAT Previous Year Paper to evaluate your

XAT preparation strategy

and gain an understanding of the questions that will be asked.
Related: CAT preparation Tips
Second-month XAT preparation strategy
Review the material you learned a month ago, and solve more questions from those subjects each week to strengthen your weak areas.
Every week, take the sectional mock tests for the XAT:
Quant and DI

Logic and Verbal Ability

Making Decisions

Check Your General Knowledge Mock XAT Test
Third Month XAT Preparation Plan
Complete three to four XAT mock tests weekly, evaluate your performance and record your progress.

Focus on this area of the verbal ability component of the XAT, as it contains a significant portion of the verbal ability questions.

Aim for the subjects that provide the most significant number of questions for each part.

Pay attention to less important subjects like those with one or two marks, which occur roughly twice weekly as

XAT preparation tips.

Avoid distractions while studying for at least 3 to 4 hours every day.

Be sure to commit every formula in the Quant section to memory, along with time-saving tips.

Establish the practice of preparing for the XAT by topic.

Read two texts per day, answer a DI question each day, and so on.
Sixth Month Preparation Advice for XAT
Create a schedule for your daily, weekly, and monthly study times, and follow it for

XAT preparation

.

It is preferable to start with your weakest regions.

We advise beginning with the quant part since it is the most challenging for most pupils.

Read the news and periodicals every day for GK.

Practice your fundamentals and formulation. Consult the textbooks for classes 9 and 10 for assistance.

Videos, blogs, and online study groups can benefit studying.
How to Get Ready for the XAT in Two Months?
It is complex and requires a lot more commitment and sincerity to prepare for the XAT in just two months. However, several XAT top scorers have done it before, so it is possible and can be accomplished. Following are a few preparation techniques that should be prioritised.
By analysing the XAT previous year's question papers, concentrate on finishing the topics that have the most weight in each portion of the XAT syllabus as

XAT exam preparation.

To master the precise paper format and acquire the necessary time management skills, practise additional XAT quizzes, mock exams, and sample papers.

This will help you to answer 100 questions of moderate to great difficulty in three hours with at least 90% accuracy.

Review your GK notes, and concentrate on current affairs planning.

Focus on learning more Reading Comprehension passages for the XAT Verbal Ability section, and use Norman Lewis vocabulary books to practise questions that use specific words.

To understand any fundamental topic you are having trouble with, consult one or two books for each area.

Learn quick tips and simple formulas from online videos on YouTube to save time and effort.
Tips for Self-Study for XAT General Preparation
General XAT Preparation Advice
There is no substitute for independent study when preparing for the XAT exam. Self-analysis and self-study are the first steps in the XAT exam preparation process. Thus applicants should concentrate on these before starting their preparation. Many XAT exam winners chose to study independently to succeed. Here are some general XAT preparation suggestions for passing the XA
Related: As there are many Business schools and Management colleges in Mumbai, you can look out for freshers jobs in Mumbai after your graduation.
Last-minute XAT preparation advice
Candidates need to put in extra effort and concentrate on crucial study strategies in the final weeks and days leading up to the XAT exam if they want to ace it. Focusing on the following areas is necessary for XAT exam preparation in the last days before the exam:
Tips for the final week of XAT preparation
Review every significant subject you have already learned.

Only revise the subjects in which you lack strength and require improvement.

Learn all of the crucial theorems and formulas in the QA-DI section.

Prepare one full-length XAT fake test, evaluate your results and note areas that need additional practice.

Read the GK notes to ensure you remember what you learned as

XAT preparation strategy

.

For XAT preparation, avoid choosing a novel topic.

Refrain from starting with a new subject and limit your attention to the XAT syllabus items you have already studied.

To minimise confusion and maintain composure, avoid looking at night.

To prepare for the exam, do XAT practice exams and sample papers daily.

Get at least 7-8 hours of sleep the night before the test for the best results.
Related: MAT Preparation Tips
Tips for Quantitative Ability and Data Interpretation on the XAT
The quantitative ability and data interpretation (QA & DI) component of the XAT exam is typically given the most weight. There are 28 questions in this section in total. The questions measure a candidate's aptitude for math and have a high level of difficulty.
Data Interpretation will be easier to prepare than Quantitative Ability. Sets of questions will be presented.
Tips for Decision-Making on the XAT
This area will include inquiries and issues from many professional and everyday contexts. These circumstances will raise questions about what should be done, and those questions will then have options from which the candidate must choose the best response for XAT preparation tips.
An arithmetic situational data arrangement test case makes analytical reasoning conditions and grouping tests possible.

Reading Understanding and Making a Decision in a Situation

The questions may deal with moral problems, concerns with sales and other financial conditions, a company's revenue, examples of various management problems, or general management.

Do not let personal preferences guide your decision.

Refrain from relying on more than the provided information. Avoid assuming anything.
Related: Look for Freshers jobs in Bangalore for high-paying freshers salary jobs.
Conclusion
I hope you are clear from the blog about the XAT Preparation Tips and how to prepare for the XAT. Young, bright minds can always strive to enrol in top B-Schools' Masters in Business Administration programmes, graduate with honours, and pave their route to success as business professionals. With this blog, you can succeed with high marks by adequately preparing for the XAT exams. Work harder, make well-structured plans, and grow as a business tycoon.