The NID Entrance Exam is conducted by the National Institute of Design in order to admit students to the Bachelor of Design (B.Des), Masters of Design (M.Des), and PhD in Design programmes. Your eligibility for admission will be determined by how well you perform on the Design Aptitude Exam (DAT), in-person interview, and studio test.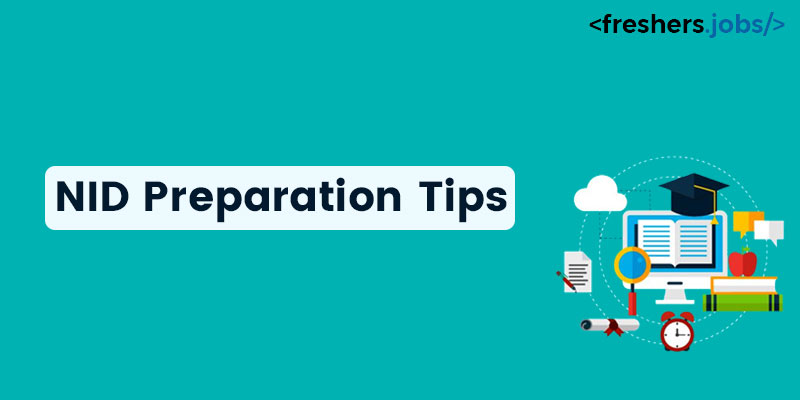 Candidates may ace the challenging National Institute of Design entrance exam using NID preparation tips and get placed with a high freshers salary. The candidate's artistic abilities will be examined in the NID mains exam, which will be studio-based.
Candidates must read through the subject-specific NID Preparation Tips and preparation plan for less stressful preparation. The study advice will make it easier for candidates to comprehend the material and perform well on the test.
Eligibility Criteria for NID exams
Candidates who have passed or will appear in higher secondary (10+2 level) examinations in Science/ Commerce/ Arts/ Humanities or any other stream from a recognized board or university are eligible to apply. The candidates from Commerce stream can go through the best jobs for commerce students.
Students can use the NID Preparation Tips to do well on the NID DAT test. Students should read through the following NID exam preparation Tips:
Candidates must make a plan to make sure they can manage their time and carry out their ideas in a way that makes sense.

Candidates should do mock tests and papers from previous years on a regular basis to understand their progress and keep track of it.

Candidates need to pay more attention to their weaknesses and keep their strengths.

As the NID Exam is for people with creative backgrounds, candidates should pay more attention to their creativity and uniqueness.

Candidates can use these

NID Preparation Tips

to do well on the test and increase their chances of passing the entrance exam.
How to Study for the NID Test
Pay attention to your Creativity and Imagination
Since this is a Design Aptitude Test, candidates should focus on using their creativity and imagination as much as possible. Make sure you don't stay in one place and think outside the box. In this test, the most important thing is how creative a candidate is. For more exams on the Design field you can go through the CEED preparation tips.
Manage Time between Technical Knowledge and Creative Thinking
There will also be technical questions about the design industry on the test. Candidates must ensure they have enough time to learn technical skills while focusing on their creative skills as NID exam tips.
Practice a Lot: You should Work on your Skills Every Day
A lot of practice will also help you keep track of time and feel more confident when you take the test. If you practice often, you will get into a rhythm that will help you find answers quickly on the test. With these tips, the candidates will be able to study without stress and do well on the test to get the right job opportunities.
Do NID Practice Tests
Make sure you take mock tests on a regular basis so you can see how you are doing. Set a time limit for yourself that's about the same as the exam, and try to solve as much as possible in that time. Try to solve as many sample papers as you can. This will help fix mistakes and keep you from getting stressed out right before the exam.
Revise
The most important part of studying for any test is reviewing what you have already learned. Make sure you learn something new every so often. Write down everything you have learned in notes and review them in the last few days. Reviewing should be done in the last few days before the test as NID tips and tricks.
Improve Speed
Since this is a test of design skills, it may take time to answer the questions. You can also move more slowly if you get stuck or confused. During practice tests, keep track of how fast you are working and move on to the next question if you get stuck. Give enough time to the important questions and keep your speed in check. Know the Time management skills to excel in the Competitive exams.
NID Tips for Preparing for Each Section
Since the NID DAT Mains Exam will be a studio test, it will cover different topics than the prelims exam. Here are some NID Preparation Tips, broken down by subject, that will help candidates do well on the test:
Model Making
Try making different kinds of sculptures.

Let yourself try things out and make mistakes.

Make sure the model still shows what you want.

Don't be afraid to change things up.
Doodling
Learn about the different ways to doodle.

Make sure you can do the same designs over and over again by hand.

Doodling small things over and over will help you get used to it.
Story Illustration
Try to tell stories through the art you make, like with comics.

Make a short story or comic strip daily to get used to it.
Freshers from the art stream can tap freshers jobs in Hyderabad for more jobs.
Manipulation of Material
Learn how to handle different materials in the right way as

NID exam preparation

.

Make sure you know how and where to use the different materials when asked to.
Creative Thinking
Give yourself the freedom to think creatively and outside the box.

Don't just come up with ideas.

Let things happen naturally to find your creativity.
Sketching
Make sure you know the different colours of pencils, so you don't get confused and stop yourself from being creative.

Sketch your surroundings and the people who live there often.
Strategy for Preparing NID 
Here are some NID exam preparation Tips and strategies to help people get ready for the exam:
Make sure you try out different kinds of art every day and don't just stick to one style.

Spend more time on your weaknesses and get better at what you are good at.

Don't worry about whether or not people like your art. What matters is how you make it.

Make sure to also brush up on your

technical skills

because they are just as important.

Look at the test papers from the years before and make sure you fully understand the questions.
Last-Minute NID Preparation Advice
Candidates need to put in extra effort and concentrate on important study strategies in the final weeks and days leading up to the NID exam if they want to ace it. Focusing on the following areas is necessary for NID  preparation in the last days before the exam:
Tips for the Final Week of NID Preparation
Review every significant subject you have already learned.

Only revise the subjects in which you lack strength and require improvement.

Read the GK notes to ensure you remember what you learned as a

NID preparation strategy

.

For NID preparation, avoid panic. Instead, boost your confidence.

Refrain from starting with a new subject and limit your attention to the NID syllabus items you have already studied.

Do NID practice exams and sample papers daily to prepare for the exam.

Get at least 7-8 hours of sleep the night before the test for the best results.
For freshers like you, You can go through the tips and the steps to change your career path at any age.
Conclusion
I hope you are clear from the blog about the NID preparation Tips and has prepared you for NID preparation. Review the preparation tips to engage yourself every minute in preparing for the competitive exams. The Right preparation, hard work, dedication and time management can lead you to top up in the NID Exams and achieve the top scores to become a successful Master Designer and a great guide tracker to the students. Begin your preparation right today for freshers jobs.