The Railway Recruitment Board (RRB) Junior Engineer (JE) exam is a highly competitive examination conducted by the Indian Railways to recruit candidates for the post of Junior Engineer. The exam is designed to assess candidates' technical and non-technical skills in various fields such as Mechanical, Electrical, Civil, Electronics, and Communication engineering to earn high salaries. The exam requires extensive preparation, knowledge of the subject matter, and a strategic approach to managing time and exam pressure. In this article, we will explore the RRB JE preparation for the exam and provide some useful preparation tips for candidates preparing for the exam.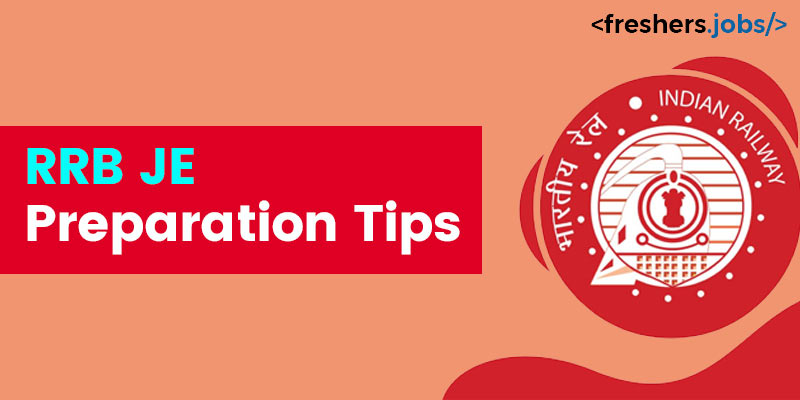 Eligibility criteria for the RRB JE exam
 To apply for the RRB JE recruitment drive, the most important aspect is whether you meet the RRB JE eligibility criteria for jobs alert. The candidates must meet several requirements to be eligible, such as a certain age, level of education, and nationality. 
For undergraduate positions, candidates must be between 18 and 30, and for graduate positions, they must be between 18 and 33.

Each job has a different minimum level of education that must be met.

Candidates studying for the Exam must make a good RRB exam preparation and Study Plan to do well on the test.
Tips for the RRB JE exam Subject-wise
How to prepare for RRB JE? The RRB JE preparation tips subject-wise will help you study each subject equally and use an intelligent strategy to cover the extensive syllabus in less time. Reasoning, Math, and General Knowledge are the three subjects on the JE CBT 1 and 2 exams. For your reference, here are some tips on studying for every part of the RRB JE exam. Freshers can look for Top High-Paying Government Careers in India
RRB JE Preparation Tips for Math
The Quantitative Aptitude section contains tricky math questions from the 10th and 12th grades. In this section, you must practise and learn meaningful and useful shortcuts to improve your speed and accuracy. Here are some essential tips and how to crack RRB JE for preparing for the RRB JE math test:
Before studying, review the most recent RRB JE syllabus and exam pattern.

Learn about each topic and ensure you know the math basics.

Learn some simple tricks to help you answer questions faster.

Find the most important relevant topic with a lot of weight and work on those first.

Use the RRB JE mock test papers to work on various questions.
You can very well prepare on How to Develop Your Problem-Solving Skills
RRB JE Reasoning Preparation 
The reasoning section is one of the essential parts of the JE exam. In CBT 1, 30 of the 100 questions come from the Reasoning section. In CBT 2, 35 of the 120 questions come from the Reasoning section. So, candidates need to read through the RRB JE preparation tips and strategy for reasoning, which is given below, to improve their preparation level and confidence in their ability to answer questions.
Read a question carefully and make notes on paper at the same time. Then try to figure out what the answer is.

Prepare the way that works best for you to answer questions on your own. In the Reasoning section, there are questions about situations that you can answer by drawing a figure or a table.

If you don't understand a topic, starting with the basics and answering already-solved questions is best.

First, write down the English alphabet and its order on paper for questions about the Alphabet series. Then, answer the questions as

RRB JE exam preparation

.
As freshers, you can be confident about new jobs and start applying for jobs from freshers jobs in Hyderabad.
Plan for RRB JE General Knowledge
Candidates often find it hard to do well on the available knowledge part of the test. One reason for this is that it has an extensive curriculum. Here are some helpful tips for getting ready for the RRB JE General Awareness section:
Current events are given a lot of weight in this section. So, it is best to read a newspaper daily to find out what's happening in your country and worldwide.
Read about news and events from at least six months before the test.

Take GK's daily quizzes.

For Static GK, make notes you can review before the test.
Develop your Essential New Skills To Learn to Advance Your Career
Tips for Preparing for the CBT 1 and CBT 2
Some essential tips for the RRB JE preparation are listed below to help you prepare for the Exam effectively and efficiently.
Timetable: Your success will depend on how well you plan your timetable. This is one of the main aspects you can always do to prepare for the Railway exam. Make a plan and follow it to the letter. Don't just talk about one chapter or one subject. Split the time and spend a few hours daily on each section. Make a schedule and study plans based on what you are most good at and what you need to work on. Change your study plan and schedule depending on how well you are doing. Find the Easy ways to get a job as a fresher.
Revision over and over again: Studying without the right amount of review is the same as not looking. When you are done learning about a subject, be sure to go over it repeatedly every few days. When you review, you remember more. Also, repeatedly reviewing the same topics helps you understand them better, which enables you to do better and score more for RRB JE exam preparation. Reviewing is one of the most common and effective ways to prepare for the RRB JE.
Time Management & Pressure Management: All exams are time-bound. But because there are so many questions in competitive exams, this part gets even more challenging. Also, you tend to feel rushed and stressed because you have to answer the paper on time. So, learning how to manage time well and do well on an exam when stressed is essential. The only way to get better at managing time and stress to do well on exams is to practise giving exams strategically and helpfully. A systematic study plan helps you learn how to answer different kinds of questions quickly.
Continuous Practice: The RRB JE preparation plan should include a lot of practice. You can gain confidence and learn to manage your time by practising repeatedly. You can practise with mock papers and RRB JE question papers from the past. Examining these papers after you finish them will help you determine your strengths and weaknesses, determine how well you prepare for the JE, and work on your weaknesses.
Confidence: If you want to do well on the day of the RRB exam, you will need to be sure of yourself for RRB JE preparation. You can try various ways to study, but if you don't feel confident on the test day, it won't matter how hard you worked to get ready. So, trust yourself and your skills, and take your test confidently. The most effective way to feel more confident is to do sample papers to get used to the RRB JE exam environment and pattern before the actual test. You can look for Careers that Make You Rich with High-Paying Jobs & How to Get Them.
How to Prepare for the RRB JE Technical Abilities
The syllabus for each RRB JE Technical Ability part is different for different types of engineering, such as Electronic, Electrical, Computer, Civil, Instrumentation and Measurement, IT, Mechanical, Chemical, Printing Press, etc. Here are some expert tips for RRB JE preparation strategy on how to study for the RRB JE test that can help you get the most out of a possible 100 points: 
Make notes for each of the things you talk about. Write down any numbers, equations, or other important information, and try to remember it as often as possible.

You should do enough practice problems to improve using the C, C++, and

Java

programming languages.

Review hard questions from earlier years' tests often.

Read about how computers work to improve your basic skills. 

The best books for RRB JE technical skills
Conclusion
I hope this blog on RRB JE preparation tips was beneficial. Jobs in Indian Government Railways are in high demand. Many applicants are passionate about working in the Indian Railway department. However, many are unsure how to prepare effectively for the RRB JE exam. Here we have provided the RRB JE preparation tips to help you understand. This will show you the way and point you toward achievement. Candidates who want to succeed in those challenging environments should heed the preparation tips of freshers jobs.