The Staff Selection Commission (SSC) is a government organisation that puts exams for people wanting to work for the central government. One of the most popular exams given by the commission is the SSC General Duty (GD) exam. This examination is given to people who want to join the Border Security Force (BSF), the Central Reserve Police Force (CRPF), the Indo-Tibetan Border Police Force (ITBP), and other armed forces. This blog will discuss the SSC GD exam and the SSC GD preparation.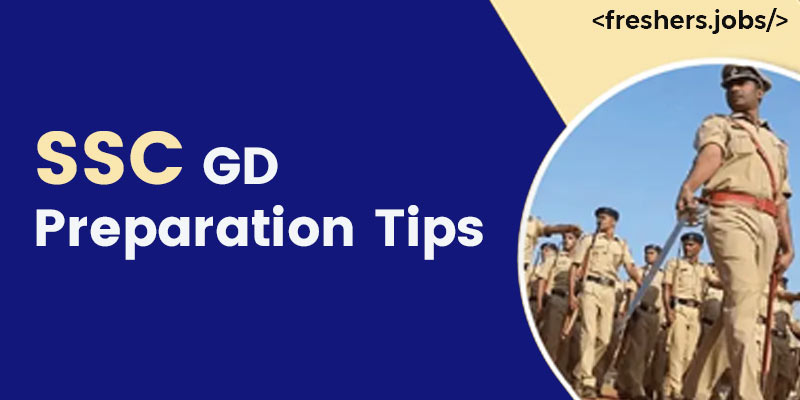 We have compiled some of the best SSC GD preparation tips and strategies to help you prepare for exams. You will get some of the best tips on how to pass the SSC MTS exam and land jobs with high freshers salary.
Eligibility Criteria
The following are the qualifications to take the SSC GD exam:
Nationality: The candidate must be a citizen of India, a resident of Nepal or Bhutan, or a Tibetan refugee who came to India to settle permanently before January 1, 1962.
Age Limit: Candidates must be at least 18 years old and no more than 23 years old of the year of the exam. Per government rules, candidates from reserved categories get a break regarding their age.
Educational Requirements: The candidate should have finished 10th grade from a recognised school or board.
Physical Standards: The candidate must meet the government's physical standards for different freshers jobs in different branches of the armed forces. These standards are height, weight, chest size, eyesight, etc.
Medical Standards: The candidate must be in good health and meet the medical requirements set by the government for different jobs in different branches of the armed forces.
Let us know the Preparation tips for SSC GD Exam
SSC GD Exam Preparation Advice
How to crack SSC GD exam? To find candidates for various non-technical, ministerial, and field-level jobs in various central government ministries and organizations, the Staff Selection Commission (SSC) holds the Multi-Tasking Staff (GD) exam. The following SSC GD exam preparation tips will help you study for the SSC GD exam. You can look for Top High-Paying Government Careers in India.
Get acquainted with the exam format and syllabus: Ensure you know the subject matter and format. You may obtain the syllabus and exam format on the SSC website or in the official GD exam notification.
Practice for last year's exams: You can get a sense of the kinds of questions asked on the SSC GD exam and the difficulty level of the questions by completing the prior year's exams.
Create a study schedule: To be ready for the GD exam, you must have a well-thought-out study strategy. Divide your attention amongst the many subjects, giving the ones you are less strong at more time.
For SSC GD exam preparation, practice your mental maths skills because some questions may demand you to make quick calculations. For increased accuracy and speed, practice mental calculations.
Take practice exams: By taking practice exams, you can better understand your strengths and shortcomings and pinpoint your areas of improvement. Additionally, it will help you develop your time management abilities.
Keep informed: As these subjects are covered in the GD exam, keep your understanding of current events and general knowledge up to date. You can read newspapers, watch news channels, and adhere to online sources. You can search for freshers jobs in Chennai for private and government jobs.
SSC GD Preparation for Reasoning and General Intelligence
The SSC General Duty exam includes General Intelligence and Reasoning, which assesses a candidate's logical thinking and problem-solving capacity.
Analogies: These enquiries examine a person's capacity to connect various terms or ideas. Practice analyzing as SSC GD study plan for the connections between the words in various groups of words or sentences.
Series completion: These enquiries assess your capacity to spot patterns and logical progressions. Complete a series of numbers, letters, or symbols to get practice.
Blood Relations: Blood relations are an exam of a person's capacity to comprehend the connections among various family members. Practice solving issues with various family configurations.
Coding-Decoding: They assess a candidate's aptitude for encoding and decoding data by predefined guidelines for SSC GD preparation. Practice encoding and decoding data using various coding schemes.
These questions examine your capacity for comprehending and analyzing intricate connections between various elements. Work through logic difficulties and other issues with several layers of information to get practice.
SSC GD General Awareness Preparation
General Awareness is one of the most important parts of the SSC (GD) exam. As you prepare with the right SSC GD strategy for this section, you should concentrate on learning about current affairs, local, national, and international news, significant historical dates and events, and general knowledge about science, geography, and politics. Questions in this portion of the SSC GD exam Preparation Guide for General Awareness will be drawn from various topics.
Considering that the questions will be focused on current events, be thorough with this part.

To stay updated on happenings, consistently read newspapers and periodicals.

To acquire a sense of the questions that will be asked on the exam, practice using sample papers, mock exams, and question papers from past years.

Learn the fundamentals of geography and science.

Review current events regularly.

It is an exam to see how well the candidate understands the surroundings and the happenings in various fields, such as politics, sports, trades, etc.

In this part, just respond to the questions you are certain of answering.

To get points in this part, pay more attention to general science.

You will be examed on your understanding of current affairs, general awareness of your surroundings, everyday observational abilities, and fundamental concepts in science in the General Awareness component of the SSC GD preparation tips. You can use the

SSC CGL preparation tips

to get a government job.
If you are a Graduate who recently passed out, you can look for the best thoughtful Ideas for What to do after Graduation.
SSC GD Study Guide: Numerical Aptitude
The SSC GD exam has a significant portion of numerical aptitude. Any candidate who has an understanding of numbers can easily pass this section. You should concentrate on the following areas when you study for the exam's numerical aptitude section:
Refresh your memory on addition, subtraction, multiplication, division, and other fundamental maths concepts.

Ensure you know concepts like HCF, LCM, and conversions between decimals and fractions.

Practice answering exams on numerical value simplification and approximation as

SSC GD preparation

.

Understand terms like discounts, markups and markdowns, and simple and compound interest.

Understand the concepts and formulas relating to time, speed, and distance and be able to use these concepts to solve issues.

To ensure the paper is completed, candidates are encouraged to undertake this portion last because it takes up the most time on the exam.

You can improve your practice by studying sample questions and assessments, enabling you to finish the issues faster for the SSC GD exam strategy.

You can refer to the

SSC CGL preparation tips

to get a government job.
Generally speaking, SSC GD Exam Tips
The appropriate kind of study programme or preparation tips is important for the SSC GD since it aids in your ability to concentrate on the areas that require the most attention. It aids in developing the abilities necessary for precise and effective question-answering. A well-organized preparation schedule will enable you to pinpoint your weak areas and concentrate more on those subjects. This makes getting good exam grades, and you will know how to crack SSC GD exam.
Each of us has both areas in which we are strong and weak. Create a study plan based on the findings of your self-evaluation.

Prioritize the subjects you find challenging and work to better them.

Start your study plan after making a note of the crucial information.

Learn and fully comprehend the SSC GD Exam Syllabus.

While studying for the exam, use your time carefully and make the necessary revisions.

Examine your speed by taking daily quizzes.

Try out mock exams, then rate your performance on them.
Conclusion
I hope you have understood the blog SSC GD preparation tips. I plan to review all the most important ways to prepare for SSC GD mains. Candidates who want to study well for the SSC GD or other competitive exams can use the preparation tips. Most people will do well on the SSC GD exam if they follow a good attitude and schedule to get high-paying jobs alert.